Irish Railway Models - Announcement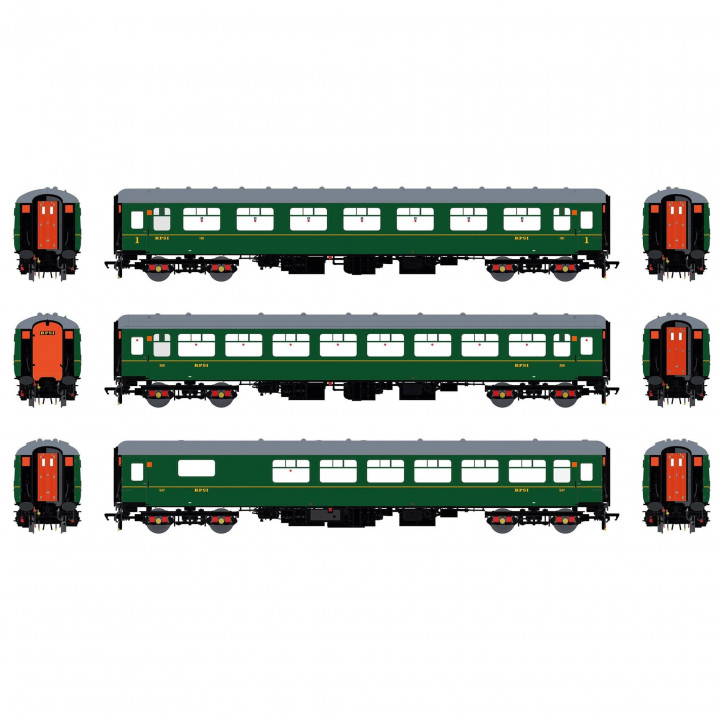 SUPPORT THE RPSI WITH OUR NEW MARK 2 COACH PACK
Our railway heritage would be nothing without preservation societies and groups, and the Railway Preservation Society of Ireland has been doing trojan work in preserving Ireland's railway heritage for almost 60 years.
Like many organisations, COVID19 has hit the coffers hard, preventing railtours, a vital source of income to take place in recent times. Thankfully, their amazing group of volunteers have kept going, and we can now offer our assistance in bringing a limited edition RPSI Mark 2 coach pack to market with proceeds going to the RPSI.
The RPSI previously commissioned a three pack of coaches in its green livery, featuring a trio of Mark 2A coaches. Irish Railway Models can now offer three more coaches to compliment that pack in Mark 2B format, including the Mark 2B Grille car no. 547, as well as FK no. 181 and SO no. 300.
A high specification of full interior lighting, museum quality detailing with a wealth of separately applied parts, close coupling and prototypically correct Irish gauge B4 bogies allowing for simple conversion for 21mm gauge if desired.
Arriving in Q4 2022 along with their NIR counterparts, our RPSI coach packs are strictly limited to 300 sets with numbered limited edition certificates and presentation packaging. RRP is €219.95 with proceeds going to the RPSI to support railway preservation.
Pre-ordering is advised due to the limited and special nature of these coaches, considering the recent sales frenzy for our A3r locomotive to raise funds for the ITG. Available exclusively via IRM, they can be pre-ordered by clicking here.