The RPSI has been running monthly meetings in Belfast, during the winter months, continually since February 1974.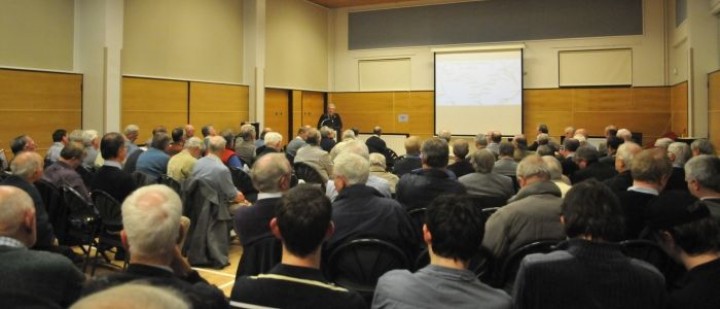 Guest speakers from all corners of Ireland and beyond have enthralled our audiences with tales of all things railway - broad and narrow gauge and mostly steam with many pictures from behind the scenes. Hundreds of slide shows and miles of movie film and video have revealed every corner of the island's rail network - and parts of several other countries as well! - to our consistently large audiences; reputedly the largest in these islands.
Each night includes a ten-minute 'Newsreel'. This gives a bite-sized look at some recent event or intriguing piece of engineering in which the RPSI has been involved and is usually a mixture of video and still photographs. It is the natural appetiser to getting involved yourself.
There is a sales table which will give you a chance to browse through the RPSI shop, including the large stock of new and second-hand Irish railway books, videos and other railway paperwork as well as magazines - far too many to list on the website!
Tea and coffee is available at the interval from the British Red Cross.
Admission is FREE and open to non-members, although donations towards the costs of running the meetings are always gratefully received.
Meetings are (usually) on the second Wednesday of the month, from October to March inclusive. They start at 7:30pm sharp with a 20-25 minute interval at about 8:45pm. Meetings finish by 10:00pm.
The Venue
Parke Hall, Orangefield Presbyterian Church, Castlereagh Road, Belfast, BT5 6BH - get directions here>>