Press Release introducing the 2017 Portrush Flyer season.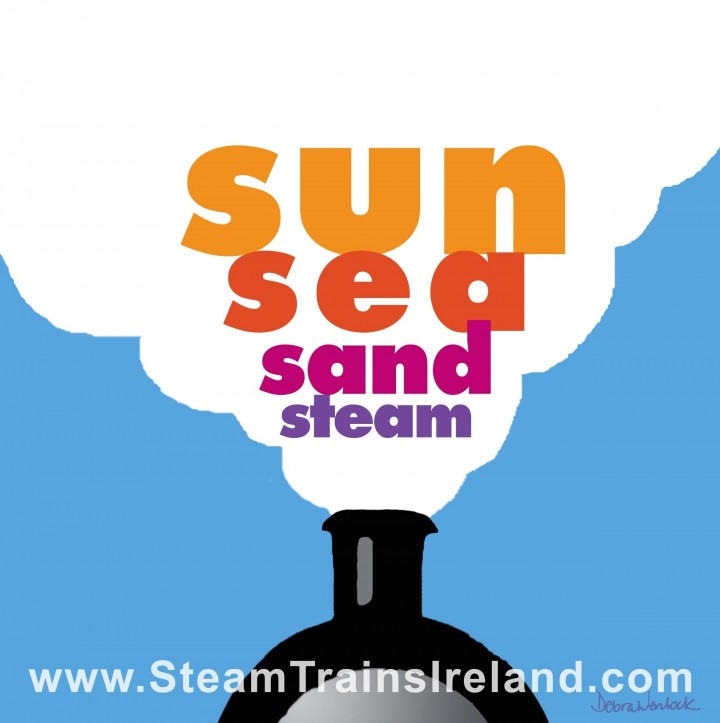 SEA, SAND AND STEAM ON THE PORTRUSH FLYER THIS SUMMER
One of Ireland's most famous steam locomotives is celebrating a special birthday this summer – No.85 "Merlin" will be 85 years old.
To mark the anniversary, the blue-liveried express locomotive will be heading to the north coast with the Portrush Flyer steam specials. We will be offering holidaymakers and day-trippers the opportunity to travel on a unique and stylish excursion to Portrush on Sundays 30th July, 6th, 13th, 20th and 27th August.
Passengers on The Portrush Flyer will travel in vintage carriages from the 1960s and 1970s behind the beautifully restored, 103-ton, blue locomotive. Merlin is no stranger to the railway line from Belfast to the north coast and even hauled a train carrying the Queen and Duke of Edinburgh last year on their way to re-open Bellarena station on the railway line to Londonderry.
Mervyn Darragh, the RPSI Operations Officer, said he was delighted that No.85 would be marking its anniversary in such good form. "No.85 was withdrawn from service as long ago as 1963 and went on display at Cultra until the 1980s when the engine came into our care," he said. "With its striking blue livery it is one of our most popular steam engines and it always turns heads and attracts waves as it steams through the countryside. The Portrush Flyer has been a fixture in the RPSI's summer season since we first ran it in 1973. It takes its name from a famous express train of the 1930s. Like all our trains, the Flyer is open to the public and with a buffet car on the train and reserved seats we always create a unique on-board atmosphere. For some people the steam train revives memories while for others it is a brand new experience, a day out with a difference for all the family or perhaps a chance to celebrate a birthday or party. The RPSI is grateful to Translink for facilitating the operation of the Flyer and for providing footplate and train crew for our steam trains."
Tickets for the Flyer are available from the Belfast Welcome Centre at £22 per head (£15 for children and £66 for a family of four). Passengers can board at Whitehead, Carrickfergus or Belfast.
The train leaves Whitehead at 10am, Belfast Central at 11:30am and returns from Portrush at 5:20pm.
Full information and tickets here.