The Society's heritage diesel 134 is in Irish Rail's Inchicore Works in Dublin for an overhaul to allow it to be returned to RPSI mainline service.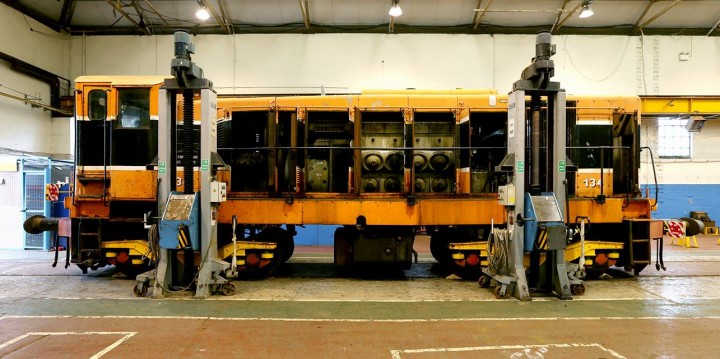 The restoration work on locomotive 134 has really taken major steps over the last week. The team in Inchicore Works have yet again displayed that nothing is impossible.
The first of major items was the removal of the complete radiator unit. This unit is well beyond its life and has gone to a specialist contractor who will rebuild the complete unit to as-built condition with new parts coming from the United States.
The locomotive axles, once removed from the bogie, underwent extensive tests which revealed that one axle was not suitable for further use. A suitable new axle was sourced within Inchicore Works and this will now be used as a replacement. This involved the removal of the wheels and bull gear from the axle. An extremely tedious and precise operation was carried out in Inchicore Works to remove these items without damage and they will now be placed on the new axle.
Various parts of the locomotive body and bonnet were removed to allow access to facilitate the complete removal of the bonnet. This was carried out with the aid of a specialist contractor, James Brennan, who donated his time and equipment free of charge to the Society as a contribution to the project. For this the RPSI would like to express our sincere thanks.
With the bonnet off the engine, this will now allow access to the main and auxiliary generator. These will go to the company which have rebuilt the traction motors, which themselves have been completed and are ready to return to Inchicore.
John Gray and his team have wasted no time and have got stuck in to the cab. One of the first tasks was to reinstate the cab window apertures over the bonnet. These were done away with when the 121 class went through the final body overhaul and many people asked would they be replaced.
This work can only continue with the financial support gained from special railtours. The next one is The Branchline Explorer on Saturday 7th April. Less than 30% of tickets remain and people are asked to book straight away to avoid disappointment and in turn contribute to 134.
The society would as always like to acknowledge the support of Irish Rail Chief Mechanical Engineer Peter Smyth and his team in Inchicore Works, Dublin. All the suppliers and contractors who are helping this project by either waiving their costs or doing the work to cover their costs, for this we are most grateful.