Society wins prestige Manisty Award from the heritage Railway Association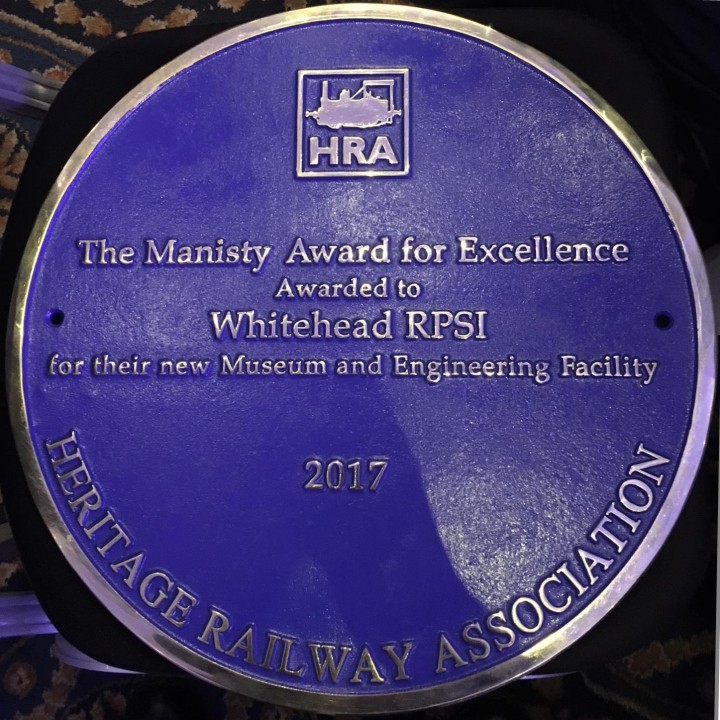 Press Release (12/2/2018)
The recently opened Whitehead Railway Museum has received a major boost by landing a top honour in a UK-wide competition.
The Museum was recognised at the Annual Awards ceremony of the Heritage Railway Association which took place in Birmingham on Saturday night (10th February).
Whitehead Railway Museum was judged to be a dead heat with the Swanage Railway in Dorset and so the judges decided, in an unprecedented move, to award two Manisty Awards on this occasion.
The £4m Whitehead museum opened its doors in March 2017 and was officially opened last October. It provides a showcase for the Railway Preservation Society of Ireland's collection of locomotives and carriages.
With five galleries and a Tea Room, the museum is wrapped around the existing engineering workshops at Whitehead, which means visitors can observe restoration work in progress on locomotives and coaches.
Lord Faulkner of Worcester, President of HRA, said: "This is recognition of the contribution made by RPSI and Whitehead Railway Museum to railway heritage in Ireland and a tribute to all those volunteers who have made such a contribution over many years."
Canon John McKegney, the RPSI chairman, who was presented with the award at the ceremony, said they were delighted that the Whitehead Museum had received such a prestigious accolade.
He said: "We are thrilled to have received a cherished Manisty Award and look forward to showing it off back at Whitehead. It is always particularly rewarding to receive recognition from a peer group.
"Our museum gives us a chance to reflect the social history of railways, tell how Whitehead developed as a railway town and most important of all, show off some of our heritage locomotives and carriages which would otherwise be languishing at the back of one of our sheds.
"We are already attracting enthusiasts from across Britain and Ireland and this award will put us ever more firmly on the map.
"Whitehead is in a prime location on the Causeway Coastal Route and we are close to another leading attraction, the Gobbins Cliff Path which was itself originally developed by the Belfast & Northern Counties Railway."
The museum opens every Thursday, Friday and Saturday from 10am to 4pm and conducted one-hour tours are available. Further details are available from www.steamtrainsireland.com
Whitehead Railway Museum was made possible by funding from Heritage Lottery Fund, the European Regional Development Fund under the European Sustainable Competitiveness Programme for Northern Ireland and administered by Tourism NI, with additional support from Mid & East Antrim Council and Ulster Garden Villages.
The HRA Awards Ceremony took place at a gala dinner in Birmingham at which the guest speaker was Lord Berkeley, a former chairman of Rail Freight Group and prior to that Public Affairs Manager for Eurotunnel.
The Manisty Award is named in memory of the long-serving chairman of HRA predecessor organisation the Association of Railway Preservation Societies, the late Captain Peter F. Manisty formerly of the Royal Navy.
| | | |
| --- | --- | --- |
| | | |
| At the ceremony on 10th February 2018, Lord Berkeley (second left) with the Society's Peter Scott, John McKegney (Chairman) and Robin Morton. | | Peter Scott, Denis Grimshaw, John McKegney, Lord O'Neill and Robin Morton display the plaque to the audience at the Belfast meeting on 14th February 2018. (C.P. Friel) |