NIR celebrated their 50th anniversary on 4th April 2018 with a steam train from Belfast's Great Victoria Street to the Whitehead Railway Museum.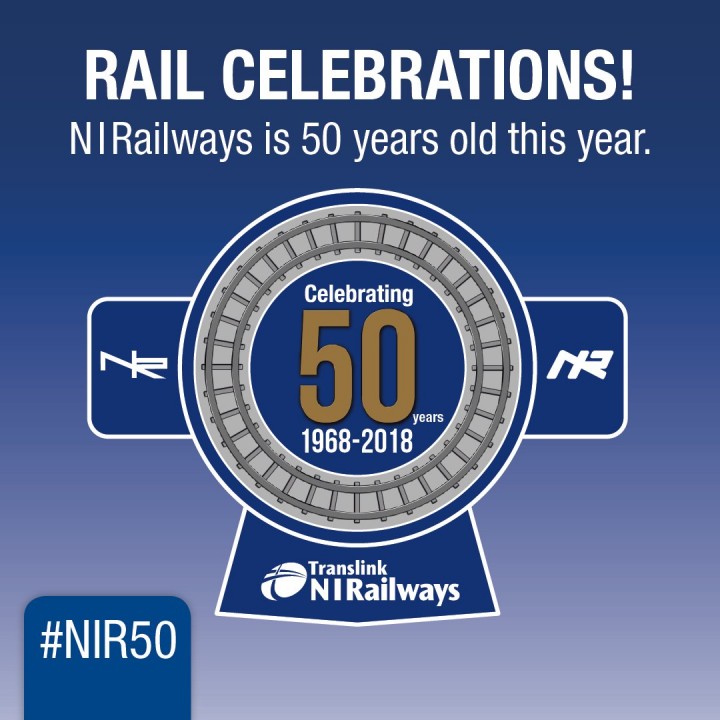 Society volunteers had a busy few days over the Easter period. After the Easter Eggspress there was a charter by NI Railways to celebrate their 50th anniversary (officially 1st April 2018).
The charter consisted of a train of RPSI carriages, hauled by steam locomotive No.131 on only its third day of public running after overhaul, having been out of service for over 55 years.
The train operated from Belfast's Great Victoria Street to Whitehead Excursion Station to give invited guests and members of the public a chance to visit Whitehead Railway Museum. No.131 hauled the train to Central, where it uncoupled and ran light to Central Junction. In the meantime NIR's diesel locomotive GM 112 coupled up to the train and hauled it over to Great Victoria Street. There, it uncoupled and No.131 backed in from Central Junction to head the train once more.
A pick-up was made at Central and then it was non-stop to Whitehead Excursion, where the commemorative tickets allowed admission to the Museum. Everything went to plan from the RPSI's viewpoint, a full train of passengers travelled. RPSI Chairman John McKegney greeted Chris Conway the Chief Executive of Translink at Whitehead. Acting General Manager Siobhan Dillon was there too.
It was a day of good publicity for both the RPSI and NIR, with TV cameras, etc.
The Tea Room too was very busy with many general public availing of the facility, not normally open on a Wednesday.
All photographs by Charles P. Friel.
| | | | | |
| --- | --- | --- | --- | --- |
| | | | | |
| Preparations 1: Philip, Ryan and Andrew get No.131 ready for the day. | | Preparations 2: Joe Cassells makes sure the carriages look their best. | | No.131 and train ready to depart from Whitehead Excursion Station. |
| | | | | |
| A grandstand view of Great Victoria Street station, with No.131 blowing off steam as it waits at Central Junction. | | GM 112 has arrived at Great Victoria Street with the empty carriages from Central Station. | | No.131 has rejoined its train at Great Victoria Street, a sight that has not been seen for very many years. |
| | | | | |
| Later in the day, after the festivities at Whitehead, No.131 was in York Road Depot to collect generator van 462 which NIR had kindly put over their wheel lathe. | | No.131 shunting van 462 onto the front of its train. | | No.131, van and train storm through Whiteabbey on the way to Whitehead. |