The first Whitehead Railway Museum model railway day has been announced for Saturday 9th November.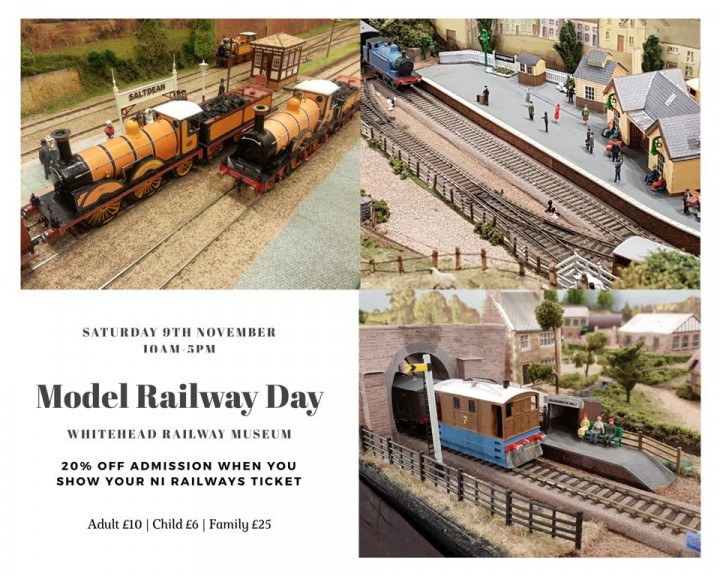 The RPSI WRM Model Railway Day will take place between 10am and 5pm on Saturday 9th November 2019.
At least two dozen model railway layouts have already accepted the Society's invitation to exhibit. The layouts will be displayed at various locations throughout Whitehead Railway Museum, including in the Stables and the Carriage Gallery.
There will be steam trains rides at the platform for most of the day allowing visitors to experience the real thing as well as the enjoying the fantastic selection of model railways on show.
The Edwardian Tea Room will be open for the event serving food and drink. Additionally, there will be tea and scones in one or both of the dining cars in the Carriage Gallery.
Highlights of the show will be a layout of a brewery build by Peter Smith coming over from England for the first time.
Tony Ragg's O gauge layout "Stanfording" features many vehicles and buildings that can be seen for real at Whitehead. A promotional video has been created using Tony's models.
We are also looking forward to a new N guage layout in a briefcase featuring a tractor factory.
Admission prices are £10 for adults, child £6 and family £25 (2A+2C), which includes admission to the Museum to see the layouts and steam train rides. Visitors arriving by NI Railways on the day will get a 20% discount on production of their train ticket. We also hope to put in place an online pre booking option in due course.
Full details here.