Had it not been for the Covid-19 pandemic, 1st - 5th June 2020 would have been Industrial Heritage Week at Mid and East Antrim Borough Council. Sadly the restrictions meant it was impossible for the various centres to put on special events to mark the occasion. To make up for it, the RPSI is releasing a video of an element of the industrial heritage work we undertake.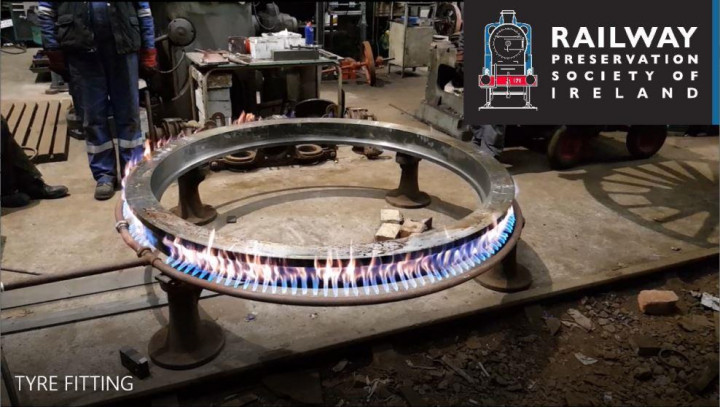 The film shows a four ton wheelset being gently lowered into the new tyre, and this footage has not until now been made public. This was a major job which took place over a six-month period in 2019. We are grateful to Bob Skingle for making this film available. And also to the volunteers who feature in the footage – Brian Hill, Mervyn Fleming, Jeff Spencer and Stephen Peacocke.
Peter Scott of the RPSI locomotive department said: "The 6ft diameter tyres are made of medium carbon steel, which is hard enough to give good wear but not so hard that they could easily fracture. One of the problems with railway wheels is that they can easily skid on the rails ("leaves on the line" for example) and this can overheat the wheel tread and cause a hard spot or "wheel flat".
"Just as in a motor car the tyres do eventually wear out, in spite of the durable material that we use. However, at our greatly reduced annual mileage compared to normal company service, the fitting of new tyres should be a once in a lifetime job!"
Locomotive No. 4 was built in Derby in 1947 by the LMS-NCC and was one of the last steam engines to be retired by Northern Ireland Railways in 1970, on the completion of the spoil train contract. The recently formed RPSI was able to scrape together the £1,275 needed to save the engine from the scrapheap.
Once Whitehead Railway Museum re-opens following the lifting of Covid-19 restrictions, visitors will be able to see No. 4 and the other RPSI engines. No. 4 was undergoing the replacement of boiler tubes when the centre was shut in March, and this job will resume once the site re-opens.
We are posting this film using the hashtag #shapedbyindustry so if you check out that hashtag you should find more items of interest from other centres, including Flame at Carrickfergus. The promotion of Industrial Heritage Week is a follow-up to the Shaped by Industry – Shared with Pride initiative which was developed by the council last year with the support of the National Lottery Heritage Fund.
We hope you enjoy the film.