Some background on why we are unable to run mainline steam trains in Northern Ireland at present.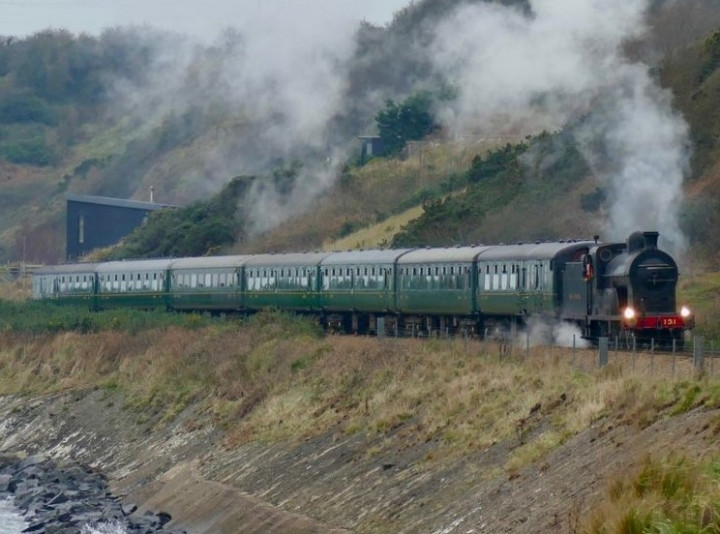 RPSI volunteers can operate within our premises at Whitehead, County Antrim, to overhaul, maintain and prepare the locomotives and carriages for the main line. But to get a steam train out on the main line we have to have a driver, fireman, guard and inspector from either Northern Ireland Railways or Iarnród Éireann.
All are regular staff from the companies, employees who volunteer for steam train work. The RPSI then provides the necessary classroom training and practical experience for them to become qualified inspectors or firemen and later, graduate to driving. Their training is overseen by one of the main line steam train operators in Britain and usually includes a week's supervised experience/training/examination on somewhere like the North York Moors Railway or the Fort William to Mallaig line. This gives NIR and IÉ some confidence that these guys know what they are doing out on the main railways.
At present, there are three qualified steam drivers and two qualified steam firemen on Iarnród Éireann. The situation on Northern Ireland Railways, though, is not so rosy. There are two qualified steam firemen but, very sadly, the only steam driver on NIR died suddenly in January 2023, aged only 62.
This leaves us unable to operate north of Dundalk until crews are trained up and qualified - and that will inevitably take time. Our guys are exploring ways of solving the problem both as a short term fix and for the long term - but, for now, no-one can predict when steam trains will operate from our Whitehead base.
It is a huge blow for the RPSI !!
Both of our operational mainline steam locomotives are in Dublin and will be working a programme of day trips as in previous years,
In Whitehead, we will be running a series of events, including steam train rides and Museum entry, within our Whitehead Excursion Station premises - those so far in 2023 have proved extremely popular.
Some answers to Frequently Asked Questions On NI Trains.