EX NORTHERN IRELAND RAILWAYS
Mk2 DINING CAR 547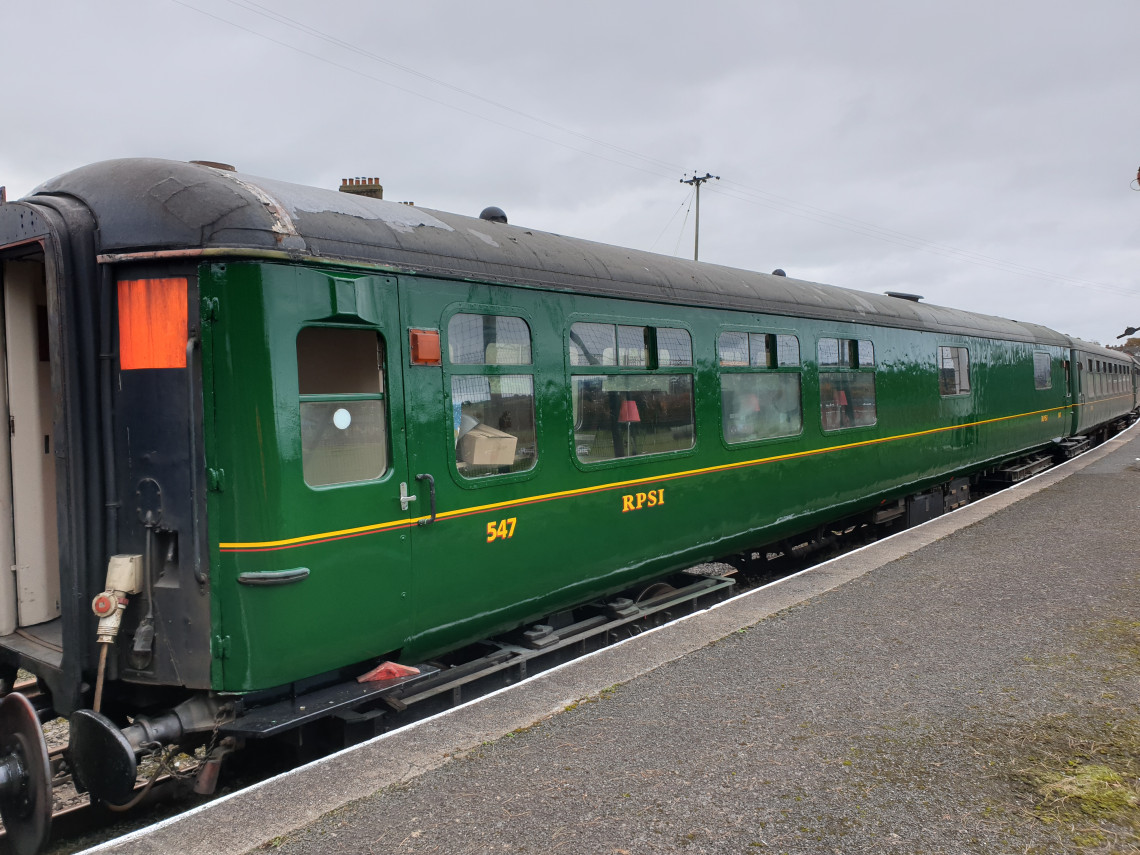 | | |
| --- | --- |
| Builder | BREL, 1970 |
| Withdrawn | NIR, 1997 |
| Companies | NIR, RPSI |
| Preservation Career | 2008 to present |
| Current Location | Whitehead |
| Current Status | Under repair |
Apart from the steam locomotive the dining car is the focus of every train and without the unique atmosphere it provides the travelling experience just would not be the same.

547 is the dining car you can expect to find on most of our steam trains operating in Northern Ireland. From the bar you can purchase a wide range of spirits, wines and beers. Tea, coffee and light snacks are also served from the kitchen.
The NIR Years

547 vehicle was built by British Rail Engineering Ltd in the spring of 1970 for the new NIR Enterprise set which came into service on 4th July of that year, using the then new Hunslet diesel electric locomotives 101-103, of which 101 and 102 have passed through RPSI ownership.

Final fitting-out of 547 was undertaken at Belfast York Road Works, unlike the other 7 coaches delivered at the same time, which were completed at Queen's Quay - involving road transport across Belfast as the Belfast Central Railway was closed from 1965 to 1976.

547 is a BR Mark 2b coach, with an integral steel body running on B4 bogies. It was one of only three NIR coaches which were allocated fleet numbers in the former UTA series - a later NIR Dining Car 546 and a conversion of standard class coach 821 to miniature buffet car 548 being the other two.

It was originally painted in the new NIR livery launched in July 1970 - lower panels in Caribbean Blue and upper panels in Morocco Red separated by a thin light grey waist band.

In July 1978 it appeared with the rest of the NIR Enterprise train in silver/grey and light blue. This livery was slightly modified in the mid-1980s by the addition of a white band between the grey and the blue.
The Hunslet locomotives were replaced on the Enterprise service from 2nd February 1981 by General Motors locomotives 111 and 112, later joined by 113. This required the conversion of the Enterprise coaches from the original (ex-UTA) Westinghouse 3-pipe to UIC 2-pipe air-braking system.

NIR set up separate business sectors in 1987, and the Enterprise services came under the auspices of InterCity, which introduced a further new livery of light grey and Prussian Blue, separated by a thin waste-band of white/black/white/yellow. Catering vehicles (such as 547) were also identified by a thin red stripe just below roof level. 547 remained in this final livery until withdrawal in 1997 following the introduction of the new French-built De Dietrich trains.

With a fully-equipped kitchen and a 21 (later 23) seat tabled dining area, 547 was technically a Restaurant Car, but in the marketing terminology of the time was usually referred to as a Buffet Car.

Although built for the Belfast - Dublin service, 547 did occasionally get further afield. For example, on 8th January 1982 a security closure of the Dublin line left NIR short of rolling-stock for other routes, and the complete Enterprise train, hauled by GM Locomotive 112 (appropriately named "Northern Counties") operated 14:10 Belfast Central - Lisburn - Antrim - Coleraine - Londonderry and the 17:15 return service from Derry, complete with 547 fully staffed and offering a full meal service.

Again, on 12th June 1985, 547 formed part of a combined NIR/CIÉ train working a special service for the Permanent Way Institution from Portrush to Dublin, with breakfast served on departure from Portrush.

BR Mark 2 catering vehicles were very rare - out of over 2,000 locomotive-hauled Mark 2 coaches built by BR, only 27 were catering vehicles, and only 15 of these (Pullman Coaches) were for BR use - the others comprised 10 Restaurant Cars for CIÉ, NIR 547, and a conversion of Standard coach 5970 to an experimental Restaurant Car to test the catering equipment for BR's Advanced Passenger Train. This coach was also subsequently acquired by NIR, becoming 546. Interestingly, both NIR Mark 2 Restaurant Cars have now been preserved - 547 by the RPSI, and 546 (now re-fitted with 4'8½" gauge bogies and reverting to its original number of 5970) by Riviera Trains for special charter trains in Britain.

In its new preservation role with the RPSI 547 has been repainted in the Society's coaching-stock livery of Brunswick Green with thin red and straw waist lining - the former UTA livery seen on the last large-scale use of steam trains in public service in Northern Ireland in the late 1960s.
In January 2015 547 was taken into the workshops to have much-needed electrical work carried out, plus an upgrade to its kitchen facilities.
During the 2020 lockdown the carriage had some attention in the sheds, including a complete re-paint.
---