GREAT NORTHERN RAILWAY (IRELAND)
SELF-PROPELLED STEAM CRANE 2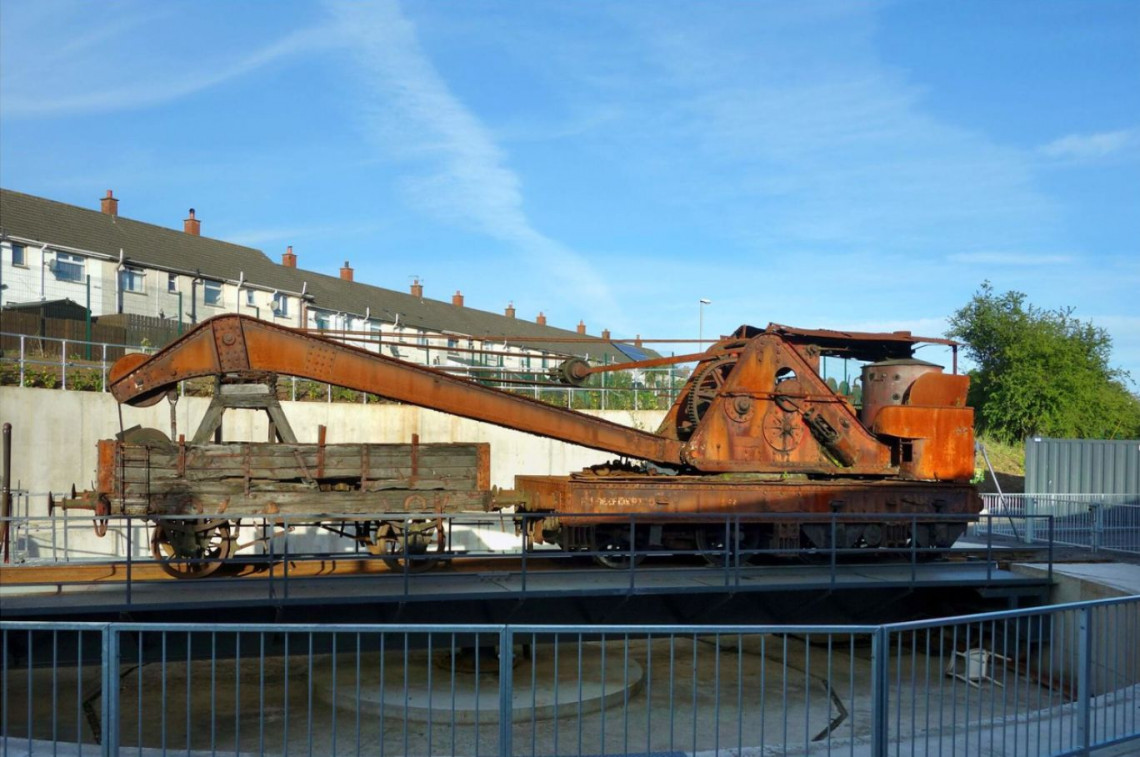 | | |
| --- | --- |
| Builder | Cowans Sheldon, Carlisle, 1912, maker's number 3169 |
| Withdrawn | NIR, 1980 |
| Companies | GNR, UTA, NIR, RPSI |
| Preservation Career | 1980 to present |
| Current Location | Whitehead |
| Current Status | Requires overhaul |
Interesting Fact: Steam cranes were used by the railway engineering departments to lift heavy objects like bridge girders and to clear the tracks after accidents or derailments.
This was one of two steam cranes built by Cowans, Sheldon of Carlisle in 1912 for the GNR(I). It is a standard Cowans Sheldon crane but adapted for our wider track gauge.
It is a self-propelled crane capable of lifting loads up to 15 tons. The vertical boiler at the rear and the huge gearing help to counter-balance the weight of the jib and its load.
The crane's boiler is a lot smaller than that on a mainline locomotive so it could raise steam quite quickly, sometimes while en route to a job. Although the crane could move itself, it was usually brought to where it was needed in a special train. This consisted of the crane and its match wagon (to accommodate the long jib) as well as a couple of vans for equipment (packing blocks, slings, chains, beams, and wire ropes, for instance) and a carriage for the crew.
This crane, maker's number 3169, was GNR(I) No.2. It was always based at Adelaide engine shed in Belfast. Its sister, maker's number 3168, was GNR(I) No.1, based at Dundalk.
Although marketed as an "Accident Crane", a lot of the crane's work was the planned replacement of bridges or signals as well as helping put things right after accidents such as derailments.
In 1932, the two cranes had worked together at both Victoria Bridge and Maguiresbridge when Castlederg and Victoria Bridge Tramway loco No.4 was transferred in GNR(I) well-wagon 1323 to the Clogher Valley Railway. We know that this crane was involved in clearing up after the derailment at Omagh Market Junction in February 1933 and that both cranes were used a month later to get No.190 upright after its derailment at Dromiskin, south of Dundalk. Quite how No.190 was got back on the rails has yet to be discovered!
On 10th January 1945, Crane No.2 was brought across to the Belfast and County Down Railway to help clear up after an accident in dense fog at Ballymacarrett in East Belfast, near the Oval Football Ground. Twenty-two passengers died after a crowded train from Holywood ploughed into the rear of a train from Bangor which had been stopped at a signal.
This was the worst accident to happen on Ireland's railways in the 20th century and is only surpassed by the Armagh railway disaster of 1889.
This crane came into the ownership of the Ulster Transport Authority in October 1958 and was eventually renumbered 8434 in mid-1961. This was in line with the GNR practice of numbering departmental vehicles in the 8000 series and one suspects the hand of Harold Houston at work. Confusingly, though, 8434 that was the GNR's number for the Dundalk crane's match wagon! The UTA's ensemble looks freshly painted in the July 1961 picture and it may well have had an overhaul about then too.
Out of use by late 1977, the crane and match wagon languished in Lisburn yard until preservation. The steam crane and match wagon arrived in Whitehead in December 1980 and both await restoration.
Cowans Sheldon cranes are found all over the world. The firm is now a part of Clarke Chapman, based in Gateshead, and they still manufacture railway cranes today though, sadly, not steam-powered.
---