GREAT NORTHERN RAILWAY (IRELAND)
GUINNESS GRAIN VAN 504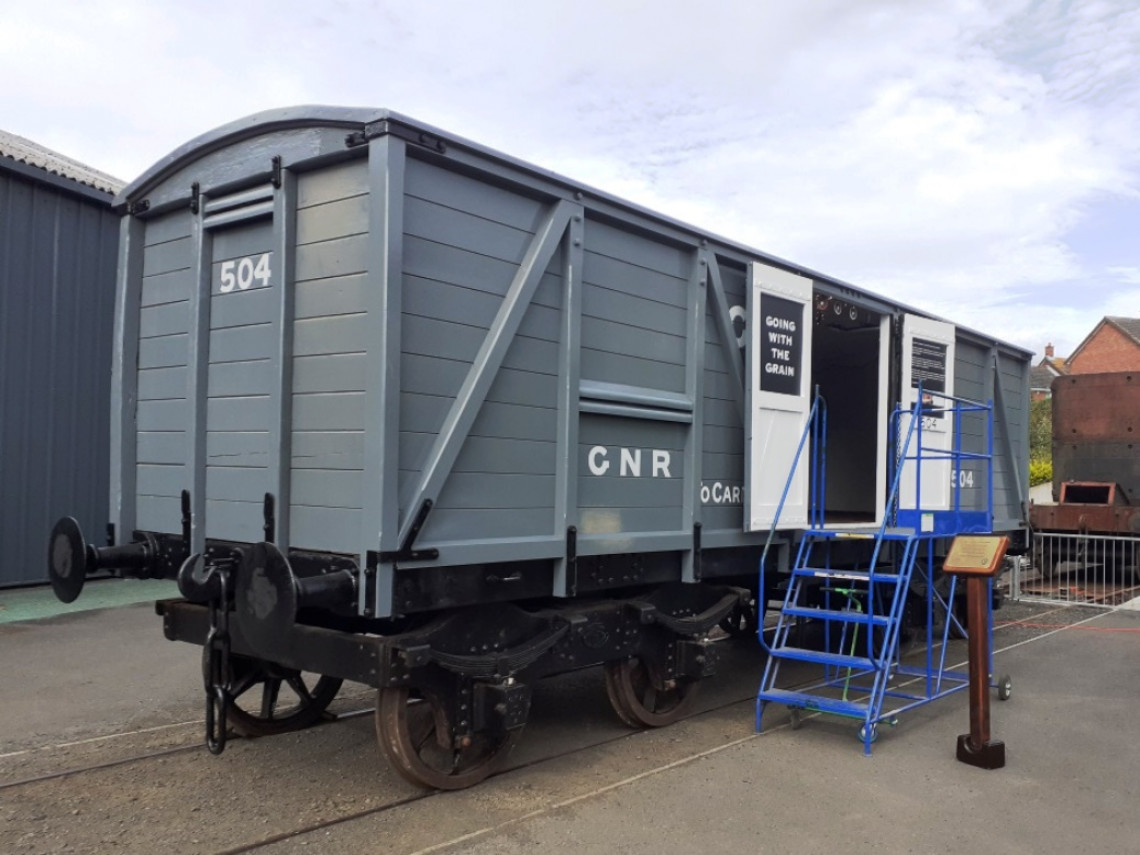 | | |
| --- | --- |
| Builder | Great Northern Railway (Ireland), 1911 |
| Withdrawn | UTA, 1965 |
| Companies | GNR(I), UTA, RPSI |
| Preservation Career | 1969 to present |
| Current Location | Whitehead Railway Museum |
| Current Status | On display |
504 is a bogie van built by the Great Northern Railway (Ireland) in 1911 to transport large casks of Guinness stout from their Dublin brewery and was later converted to carry grain to the brewery.
The vast majority of goods wagons in Ireland were four-wheeled vehicles which could carry about 10 tons but there were some longer wagons, running on four-wheel trucks or bogies, which could carry twice as much as two wagons in a shorter space.
Longer, bogie, wagons were first used in Ireland by the Belfast and Northern Counties Railway in 1891 to transport iron ore from the Antrim plateau to Belfast. Rather than the traditional wooden framing, these wagons had underframes of steel and could carry up to 30 tons of ore.
In 1903, the Great Northern Railway (Ireland) built six large vans to cater for the heavy traffic of Guinness in large casks from the brewery in Dublin.
The new vans had Fox's Pressed Steel underframes and Fox's Pressed Steel Frame pattern four-wheel bogies. In The Railway Engineer for August 1891, the bogie was described as giving "a maximum of strength and elasticity with a minimum of weight". The use of these short-wheelbase bogies permitted use on tight curves within brewery.
Only one of the bogies had a handbrake. This was the Simplex Patent Brake which operated on all four wheels and was said to be "very powerful and convenient" and "as good a brake as can be wished for".
Dundalk built wooden bodies on the steel underframes which could carry up to 20 tons in their 27 feet 6 inches (8.4 metres) long bodies. The new vans, to Diagram 18, were numbered 140, 609, 1408, 1448, 1554 and 1989.
Eight years later, in 1911, the GNR(I) built a further batch of six of these vans. These again used Fox's pressed steel frames and bogies and were numbered 504, 886, 1255, 1795, 1977 and 2518.
It seems that the Brewery produced Guinness in several sizes of cask. The largest were butts which stood about 42 inches (107 cm) high and held about 104 gallons (472 litres) of Guinness. Butts had a diameter of 37 inches (93 cm) at their widest. More common casks were hogsheads which held 52 gallons (234 litres); they stood 37 inches (95 cm) high.
Although holding twice as much as other vans, they were not popular at the Brewery because the two loading teams often got in each other's way at the doorway which was 60 inches (152 cm) wide.
More research is needed to identify how heavy a butt was and how many butts could be fitted into one of these vans. Can anyone envisage what 20 tons of Guinness looked like? Please get in touch if you can help.
In 1938, six of the twelve bogie vans were converted to carry 17 tons of grain in bulk to Guinness' brewery. See Diagram 19.
The double doors on each side were removed along with the two ventilation louvres at about waist height on each side and the smaller louvre high up at each end.
External footholds provided a ladder on each side and there were more hand holds on the roof. Externally too, the "20 TONS" to the right of the former door now became "BULK GRAIN".
Internally, the sides were sheeted with tongued and grooved planks. Wooden shuttering was built across the width of the vans to create four hoppers. Three loading hatches with hinged covers were fitted to the roof and an internal ladder was fitted at the middle opening. Four unloading doors were created on each side at floor level. The conversion added half a ton to the tare weight of the vans which now weighed 12 tons 10 cwt when empty.
This van, 504, and sister 1977 were the first to be converted to grain use in April 1938. Dundalk Works released four more conversions the following July - 140 and 1554 of 1903, and 1255 and 2518 of 1911.
1255 and 2518 were restored to ordinary traffic configuration and returned to traffic on 6th October 1942. It is not known when they were reconverted to bulk grain traffic but 2518 was in grain van mode when she arrived for preservation.
Diagram 19 indicates "Removable platforms and chutes" which could be fitted at the unloading doors. These were something of a mystery but, fortunately, a photograph by Des Coakham has recently come to light and is reproduced here. Des photographed chutes in use for unloading one of Scotts of Omagh's grain vans in 1961. Scott's - and maybe others? - used four 10-ton and six 12-ton four-wheeled vans which the GNR(I) had adapted to carry bulk grain.
Can we presume that the Guinness chutes were similar to one illustrated? If you have any information about chutes, the platforms which supported them, or indeed anything about Irish railways handled grain traffic, please do get in touch.
All twelve bogie vans survived to the end of the Great Northern and, in October 1958, were divided between Córas Iompair Éireann and the Ulster Transport Authority. While most divisions were done on the basis of building or rebuilding dates, the UTA acquired all six of the grain wagons and CIÉ, which already had a large number of bulk grain wagons, acquired the six unconverted vans.
After the RPSI had been formed in September 1964, a subcommittee of Derek Young, Sullivan Boomer and Graham Nevin wrote to several local firms seeking wagons. This led to the preservation of several wagons, including Guinness Vans 504 and 2518 - and to our first locomotive, No.3BG from Guinness' brewery!
When the UTA abandoned goods traffic in February 1965, these Guinness vans were in Maysfields yard, Belfast and were later stored in Ballymena. They were moved to Carrickfergus goods yard before delivery to Whitehead in late 1969.
Before our 1970 Open Day, both vans had their grain shuttering removed and new double doors fitted on one side. 2518 was used as a shop selling soft drinks, confectionery and souvenirs. Aldo Magliocco ran a chip shop in 504 and painted the interior a pale blue. The Society News-Letter reported that he had sold vast quantities of "simple chips, compound suppers and superheated burgers" as well as ice creams and lollipops. After the public had gone, Mike Gilliland set up a disco in 504 and Aldo provided a late-night fry-up for the workers.
Thanks to a grant from Guinness, both vans, and some other wagons, were repainted in time for the Steam Gala of 3rd July 1971 when they formed a static goods train at the platform. Aldo's chip shop was moved to the front of No.2 shed road, so 504 was used as a cinema where Macha Film Studios showed their films of our Killultagh, Olderfleet and Slieve Cualann railtours. 2518 was again used for the sale of refreshments and souvenirs, a role she continued to perform during our Steam Train Rides which began in August 1971.
504 then became a mobile store for the many portable road signs that we used to advertise the Train Rides as well as the platform seats and the large station signboard. This role continued until the portacabin shop came into use in 1980 after which the vans' use dwindled and their condition slowly declined as all energies were devoted to keeping the public trains running.
504's body suffered severe scorch damage on the door side on 23rd March 1978 when a vandal's fire destroyed just-restored GNR K15 Open Third carriage 176 and severely damaged two operational Bredin corridor Thirds, 1327 and 1328.
Things began to look up for our goods vehicles in 2006 when the youth team began restoring GNR(I) 20-ton Brake Van 81 which had also suffered scorch damage in the March 1978 fire. 81 soon acquired the nickname "Ivan" and went on to win the Heritage Railway Association's Best Wagon award for 2009.
The huge developments of our facilities at Whitehead and creation of our museum were funded by many sponsors, principally the Heritage Lottery Fund which was keen that we had projects across a wide spectrum of railway life. So, as well as new buildings, enhanced public facilities and views 'behind the scenes', we had to deliver a lot of interpretation of our workshops and our exhibits which included wagons.
The Guinness Vans were included in the plans as vehicles which could tell the story of something that Irish railways used to do. By 2015, though, both Guinness Vans were in a very poor state. 504's frame was much the better of the two and it was chosen for restoration but using some of 2518's salvaged metalwork.
504's body was lifted off and both long chassis members of the frames were totally replaced. The rest of the frames, drawgear and bogies were refurbished and a lot of the bodywork, especially on the door side, had to be replaced with new timber, carefully replicating what had been done over a hundred years earlier in Dundalk.
It is hoped that the restored 504 will demonstrate both of the van's roles down the years. One end of the van will represent the early years transporting large casks of Guinness while the other should recreate the grain-carrying era. While one end of the body has the original side and end louvres restored, the other end will have the post-1938 internal shuttering, floor-level doors, roof hatches, and the internal ladder fitted in grain days. Externally, one side of the vehicle has the double doors (which now allow for public access), while the other side still has the external footholds from later days and there are roof hatches above the recreated grain hoppers.
The van was officially launched to the public, for subsequent display in the Museum, on 25th September 2021.
Footnote: Although Samson Fox's bogies are often found on preserved rolling stock in America or Australia, they are seldom found in these islands. Having said that the RPSI has Fox's bogies under this van (504) and from now-scrapped sister 2518, as well as under the GNR(I) Directors' Saloon 50 (which is also on display). Our Museum had a visitor from England who came specially to examine our Fox's bogies!
---