LONDON, MIDLAND & SCOTTISH RAILWAY
(NORTHERN COUNTIES COMMITTEE)
W CLASS 2-6-0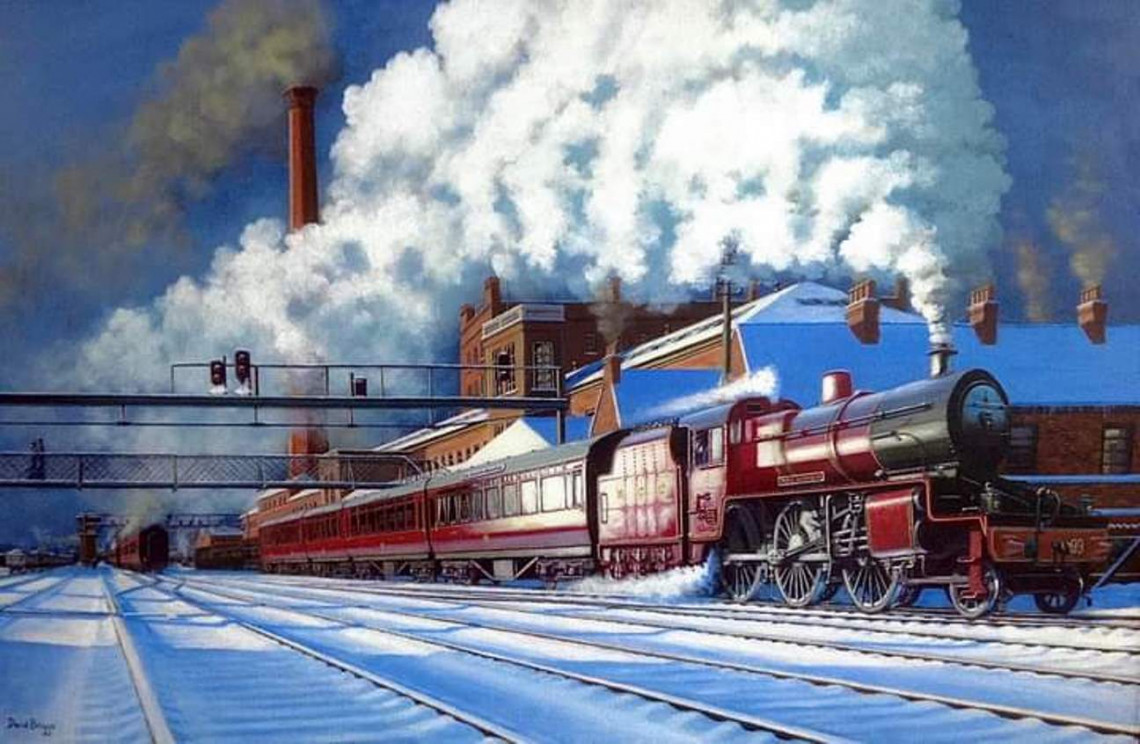 | | |
| --- | --- |
| Builder | Railway Preservation Society of Ireland, 2018- |
| Withdrawn | 1960s (original locomotives) |
| Companies | LMS NCC, UTA (original locomotives) |
| Preservation Career | |
| Current Location | Whitehead |
| Current Status | Under construction |
In 2017 the RPSI Board approved for work to proceed on a second NCC "G8AS" boiler - the type suitable for NCC 2-6-4 tank engine No.4.
Locomotive No.4 has proved to be our most versatile engine, well living up to the nickname 'jeep' applied to the 18 strong class. As per the Society's business plan (covering both the Whitehead Museum development and our main line operations) we intend to increase the frequency of our steam trains, and keeping No.4 available is considered essential to this end.
A project to achieve this was first suggested several years ago. It then consisted of 3 stages:
To provide strategic spares so that No.4 would be out of traffic for the least possible time when requiring overhaul or maintenance. (Our locomotive overhauls have taken anything up to 10 years - although in fairness that has usually included major rebuilding.)
To provide another tank engine boiler - again to avoid down time for No.4. The boiler would be based on existing parts.
More ambitious, to provide a second tank engine - which would ensure that one 'jeep' would always be in traffic at any one time, and two for a lot of the time.
Stage 1: No.4 has recently had new tyres fitted, and the opportunity was taken to obtain a set for the spare driving wheels that the Society had in store. These are currently being machined.
Stage 2: This progressed further several years ago, with the acquisition of materials for the firebox, and work is ongoing as time permits and is at present concentrating on throat plate flanging arrangement.
Stage 3: This is the interesting bit - there is no doubt that another locomotive would be desirable that could handle our more frequent and heavier trains that must fit in with intensive timetable services. (It should be remembered that for our Whitehead and Dublin based operations, we actually only have four express passenger locomotives to call upon, and in reality one at least must be under overhaul at any one time.) The basis of the third stage of the project is that we possess many of the working parts of the loco, so would not be starting from new.
It soon became apparent that opinion favoured the building of an NCC mogul rather than a tank engine as originally proposed. The moguls were the mainstay of the NCC main line services from the 1930s into the early 1960s, but sadly not surviving into preservation. The mogul was of course a tender engine with the inherent drawback of having to turn, but the advantage of increased coal and water capacity.
Both the mogul and the jeep were based on the LMS 2300 class tank engines, which provided basic design for the cylinders, working parts, much of the running gear and the boiler.
Either option would require substantial funding and would be a longer-term project. Feasibility has been investigated and no insurmountable practical problems have been identified, but financing and the rate of financing are unknown - although early signs are encouraging and funding is already in place to allow the Stage 2 boiler work to make a start. Practical volunteer work is playing a very significant part, and most of the work would be done at Whitehead with only essential work being contracted out where the RPSI workshop does not possess suitable equipment.
In late 2018 the Board took the decision that any future build should be a mogul. And to that end preliminary work began on sourcing drawings, and developing patterns and frames.
The mogul may well be (but not necessarily) numbered 105, the next in the NCC series. These locomotives were named, so it will be interesting to see what title the locomotive will eventually carry. For example, some moguls were named after rivers in the NCC territory like "The Braid", "The Bann", etc., others after notable personages. That and the livery will be food for debate no doubt.
Progress Update (November 2022)
During the Covid lockdown, activity was restricted to work that could be done off-site or by contractors. Pattern making and casting of steel components actually progressed much faster than had been envisaged at this stage of the project. It has resulted in a formidable array of cast items where machining is either awaited or under way now that work at Whitehead has resumed. This includes the motion brackets, horn guides, brake and spring hanger brackets, pivot castings, reverser brackets - all items attaching to the main frames. The pony truck also requires a significant assembly of steel castings. Existing components, for example the driving wheels, have been overhauled. The main frames are connected by a series of flanged plates which require pressing to form the flanges, then machined and drilled, which is also in progress. The smokebox saddle has been assembled for welding.
The boiler (G8,24) which is being rebuilt is suitable for either the Mogul or the 2-6-4 tank engine (two of the tank engines or "jeeps" were latterly fitted with ex mogul boilers). The boiler barrel has had the front angle ring and throat plate fitted, and has been drilled for riveting. Work is progressing with the stiffening plates at the dome and top feed connection. The outer firebox wrapper is on order. This is the last major component required, but there remain many smaller items from stiffening plates to stays and rivets, all of which are time consuming and have an ever-increasing price tag.
Help Further The Project
Funding to date has come from individuals - to whom our thanks are due. Further interest is being expressed and all contributions will be put to effective use to keep the project moving forward.
You too can get involved in helping this exciting project. Simply use the appropriate Donate button and put a note in the "Add A Note" box that you would like your donation to go to the NCC Mogul Appeal.
For Sterling donations:
UK Taxpayer? Why not Gift Aid?
(Or email us if you already have Gift Aid in place)
For Euro donations:
---