WHITEHEAD EXCURSION STATION SIGNAL BOX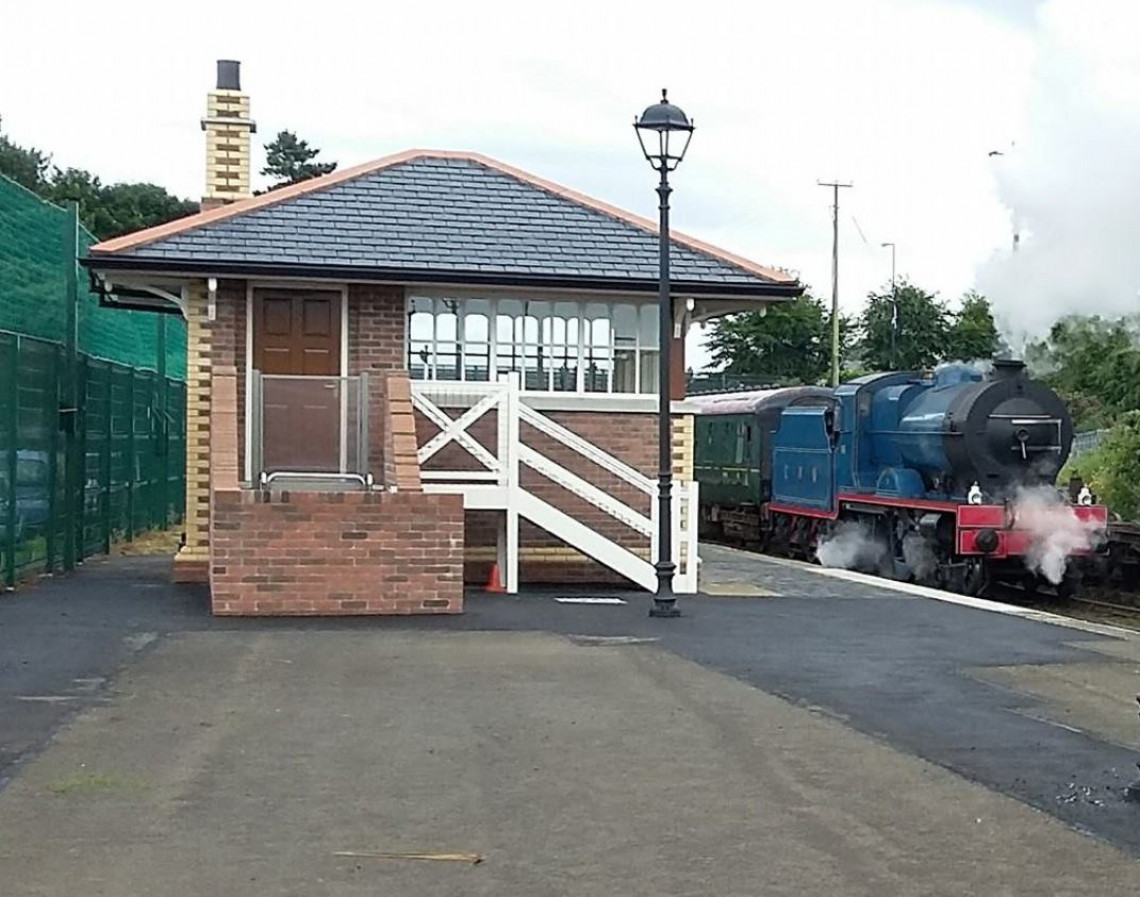 | | |
| --- | --- |
| Built | 2015-2016 |
| Company | RPSI |
This replica signal box, built in 2015, with its distinctive overhanging roof, is typical of those built by the Belfast and Northern Counties Railway in the late 19th century to the design of Berkeley Deane Wise.
The closed signal boxes at Whitehead and Carrickfergus are good surviving examples of the type. There were signal boxes like this all across the former NCC (and even at Strabane because the NCC owned the narrow gauge line from Londonderry Victoria Road).
Railway signalling is the system used to safely direct railway traffic in order to ensure only one train is in one section of track (called a block) at a time. This prevents trains from colliding.
In a mechanical signal box, such as this, a signalman pulled levers to operate points and signals. These controlled train movements within the station and also over a section of track running between stations. Communication between signal boxes was by a system of bell codes, telegraph and telephone to confirm a train had passed and a specific block was clear. The absolute block system became mandatory in the United Kingdom after Parliament passed legislation in 1889 following the Armagh rail disaster.
On some single track railways, token systems were used. The train driver carried a unique metal token as his authority to occupy the line. Nowadays most single track lines in Northern Ireland are worked using electrified track circuits and a token is no longer required.
The lever frame was obtained from the former Tubbercurry signal cabin on the closed Claremorris to Collooney line.
Following the lifting of the loop at Castlerock in 2016, its Starter signal was obtained by the Society and this was installed at the Belfast end of the platform in October 2018. It was made operational by linking to a lever in the signal box.
In September 2022, the Home signal was also connected to the frame, the levers of which were re-painted to signify their revised use. The main components of this signal are from the Up Home signal in Claremorris, including the unique yellow call-on arm. It was the last mechanical call-on in Ireland and by regulation should have been red. It has had a bracket added for own needs.
---