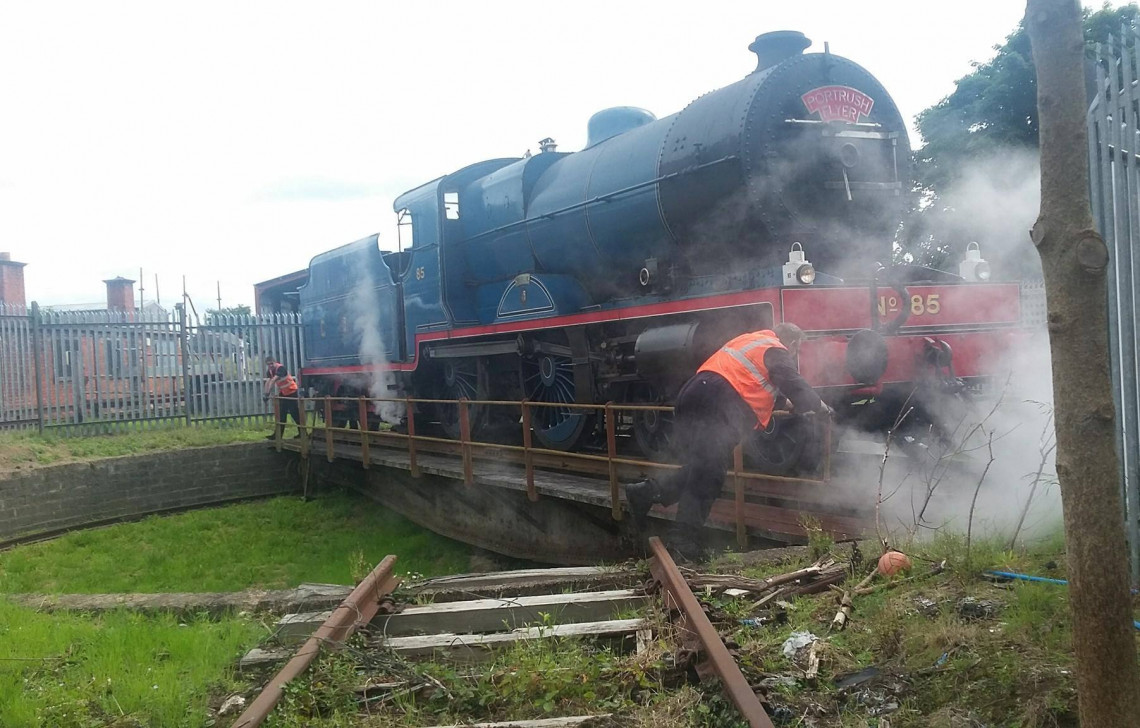 | | |
| --- | --- |
| Built | ?? |
| Company | LMS NCC |
| Preservation | Installed 1986 |
This was a project that was mooted for several years; it was badly needed in order to allow the locomotives of the popular summer Portrush Flyer trains to turn without having to run to Londonderry to use the turntable there.
This became more urgent with the removal of the Derry table and with No.85 'Merlin' coming into traffic as it was not a locomotive suitable for extensive tender-first running.
But progress was slow, and an appeal to raise the required funds was started in 1985.
By April 1986 progress was being made, with a five-man Enterprise Ulster squad busy at Coleraine. They spent 15 weeks building the turntable pit, a job which involved the excavation of 600 cubic metres of earth, and then construction work in which the requirements were 80 cubic metres of concrete, 5,000 concrete blocks, two tonnes of steel reinforcements, and 200 tonnes of stone fill.
Meanwhile, at Whitehead, our ACE workers had been hard at work since January on the renovation and modification of the turntable itself – it required considerable refurbishment.
The 58 ft. table (extended from its original length of 55 ft.), which had seen service at Ballymena and Belfast's Great Victoria Street, had been in store at Whitehead since the early 1970s.
It will now accommodate any locomotive - although if anyone ever wants to turn No.800 the only means of balancing the locomotive will be by adjusting the level of water in the tender!
A brief outline of the mechanical work is as follows:
Complete de-scaling and painting of steelwork.
Addition of an 18" extension at each end.
Overhaul of locking mechanism and provision of missing parts.
Renewal of missing adjusting nuts.
Provision of deck timbers.
Freeing up of race wheels.
Fitting of additional stretchers at each end where existing castings are cracked.
The refurbished table was moved by road from Whitehead to Coleraine in June 1986. The low loader was also used to transport the former Londonderry table to Whitehead for storage. This latter table, which was originally to be reinstated at Coleraine, was found to be badly corroded and was rejected in consequence.
The £25,000 turntable project was completed after No.4 had successfully tested it on 5th July 1986.
At a ceremony at the table on 19th July 1986, Mr Joe Knox, the local board member of the NI Tourist Board, presented a cheque to the RPSI vice-president Lord Dunleath for 33% of the materials costs of the project.
The new turntable was used for all of the Flyers that year, and has been in annual operation since.
---