GREAT SOUTHERN & WESTERN RAILWAY
OPEN THIRD 837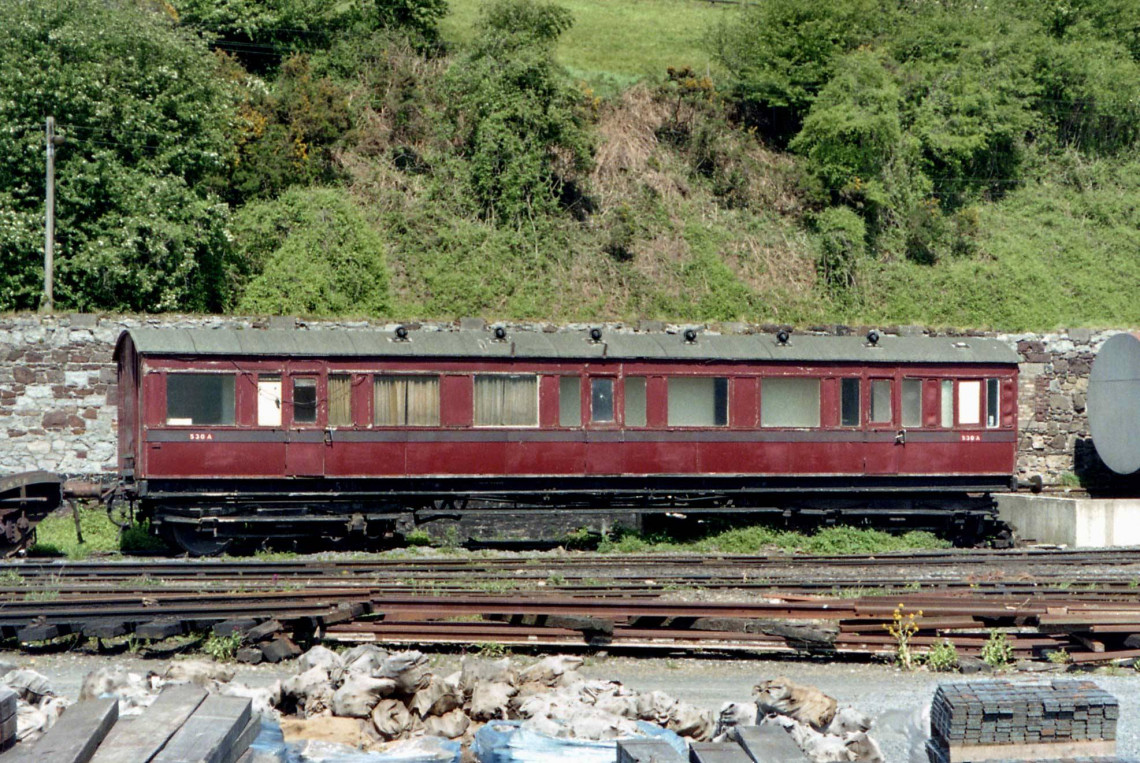 | | |
| --- | --- |
| Builder | Ashbury Railway Carriage & Iron Company, Manchester, 1902 |
| Withdrawn | CIÉ, early 1960s |
| Companies | GS&WR, GSR, CIÉ, Irish Rail, RPSI |
| Preservation Career | 2002 to present |
| Current Location | Whitehead |
| Current Status | In storage |
837 was acquired by the RPSI from Irish Rail in 2002. It had been languishing in the sidings at the Newrath end of Waterford goods yard.
Withdrawn from passenger service in the 1960s, the carriage was considered too archaic in its design to be used even as 'reserve' stock. It was, however, too good to scrap and was instead taken into departmental stock, becoming 530A. In this capacity it was transformed into a mess/sleeping coach to almost exactly the same design as GS&WR 803 (Departmental 523A) that has served as the Society's mess coach in Mullingar for some decades.
In Departmental use both coaches were laid out with a kitchen/messroom at one end, three side-corridor two-bunk sleeping compartments and finally a small lavatory and wash basin at the other end. The corridor gangways were removed.
837 was built in 1902 under the direction of CME Robert Coey, as one of a batch of ten numbered from 834 to 843. Sister carriage 836 is preserved by the Downpatrick and County Down Railway and has been restored to original condition. It is a credit to those who carried out the work.
As built, this batch of coaches was laid out as open third class saloons, having nine bays of eight seats each. Lavatories were not included. As the coaches were provided with gangway connections, it was presumably intended that passengers would have access to lavatories elsewhere in the train. A centre partition was provided, with a door, separating the interior into 5-bay and 4-bay sections.
837 was retrieved from Waterford and moved to Mullingar shed in April 2002. To facilitate the move, two damaged brass bearings were replaced with temporary wooden blocks. The USA-based Irish Railways & Transport Foundation funded the purchase of the vehicle from IÉ.
It is planned to have the vehicle restored for display at the Whitehead Railway Museum. To that effect, a survey on 11th August 2022 showed:
One buffer missing from the vehicle.
Heavy corrosion noted around both sides of the headstock (at door side).
Dash pot covers are missing for all visible axles.
The vehicle was removed from Mullingar locomotive shed on 15th August 2022, arriving Whitehead the following day.
While being cleaned out internally, a love letter and engagement ring receipt from the 1970s was found. So, Paddy, if you are reading this, we have your papers!
It is thought that it might be an excellent vehicle for use at the platform on busy days in the café if fitted with an open plan seating area.
---