With a unique collection of working steam locomotives and vintage railway carriages, we are an ideal choice for any film or TV commercial maker who wishes to portray a railway scene at any time between the 1880s and the 1960s.
As well as supplying locomotives and coaches, we can advise on historical authenticity and on other practical matters in relation to your filming proposals.
In order to arrange a filming sequence with a railway subject, there are a number of things to consider.
Firstly, is a train required just as a static backdrop, or is a locomotive in steam required? Then, does the train need to be going anywhere, or is it sufficient to have it just move away out of camera view? If one of the above is all that is needed, it may be possible to arrange the whole shoot on our premises at Whitehead, Co. Antrim, or at a location on the national railway system (and we can give you clues on where best to go for different purposes). If you need a fully fledged train, travelling on a main line, we need to involve the railway authorities as well. Let us know what you require and we can suggest how best to approach it.
Costs are based on the following:
Hire of locomotive and/or coach(es).
Running expenses, i.e. coal and lubricant costs, railway company line occupancy charges, railway crew charges. Running expenses are calculated on a mileage basis, and on the basis of coal, etc., used while stationary.
Generally, your film company will incur charges from the railway company as well, which you need to negotiate separately. Should you require diesel haulage of our rolling stock for positioning purposes, this would also be subject to negotiation with the relevant railway company.

See the railway map of Ireland below to have a look at where it is possible to go - anywhere is theoretically possible, though some destinations are more suitable for steam trains to go to than others. Also, our own Whitehead Railway Museum has been used as a filming location on a number of occasions.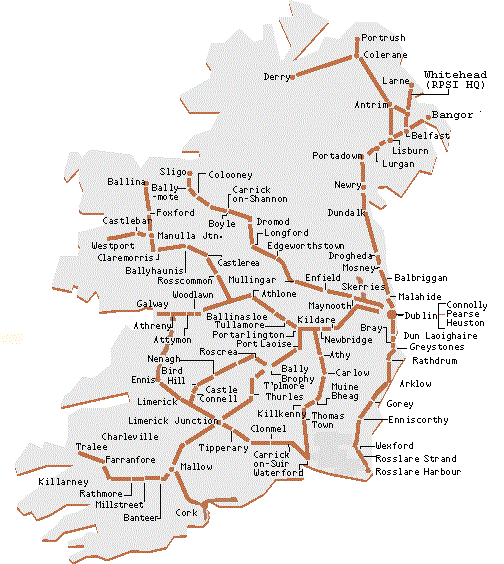 Contact us today for a quotation.