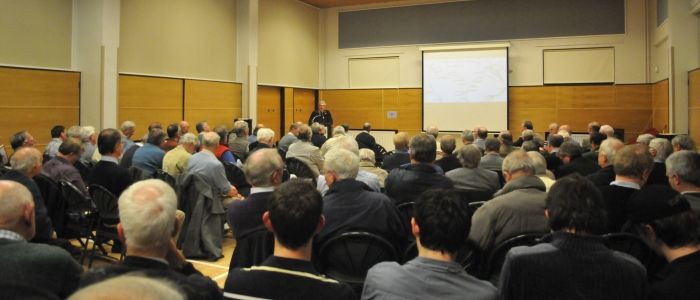 The RPSI has been running monthly meetings in Belfast, during the winter months, almost continually since February 1974.
Guest speakers from all corners of Ireland and beyond have enthralled our audiences with tales of all things railway - broad and narrow gauge - mostly steam, with many pictures from behind the scenes. Hundreds of slide shows and miles of movie film and video have revealed every corner of the island's railway network to consistently large audiences, reputedly the largest in these islands.
All Welcome!
The 2023/4 season of meetings will be on Tuesdays. They will once again be in Orangefield Presbyterian Church Hall.

Date
Meeting Details
10-Oct-2023
Adventures of a Fighting Railway - The Belfast Central Railway Company 1864-1885
Rob Phipps brings us the results of his extensive first-level researches, and the subject of his new book, on this short and sometimes overlooked line which was often in dispute with its much bigger and more influential neighbours but which turned out to be a real survivor.
14-Nov-2023
Ballycastle Station and its Environs
Mal McMichael uses photos, many previously unseen, to tell us about the life and death of the Ballycastle terminus of the narrow-gauge line from Ballymoney, from its first, independent, days and as part of the LMS-NCC until its premature closure by the UTA on 3rd July 1950. He includes some industrial archaeology of the area immediately surrounding the station.
12-Dec-2023
More Travels in Ireland with Mac
Michael McMahon brings us another selection of mostly 'new' pictures from the camera of R.M. (Mac) Arnold whose travels brought him to every corner of Ireland - and sometimes beyond - in search of steam. Surprises guaranteed.
09-Jan-2024
Omagh Railway Station – A Journey Through Time
Tony McGartland, author of the new book with this title, brings us the story of his native station where the Irish North met the much-missed Derry Road and which finally closed in February 1965. Tony will be sharing images from his new book and some others which did not make the final cut.
13-Feb-2024
The Life and Times of Berkeley Deane Wise
Mark Kennedy takes a look back at the work of this New Ross-born engineer who worked on the Dublin Wicklow and Wexford, the Midland Great Western, and the Belfast and County Down railways before making a huge mark on the Belfast and Northern Counties Railway where he created many fine buildings and the Gobbins cliff path.
12-Mar-2024
Some Proposed Reopenings
Roger Joanes will share pictures from the 1950s and 1960s along the ten routes proposed for reopening in the recent All-Island Strategic Rail Review. These vary from the 'relatively easy to reopen', such as the South Wexford, to those needing land acquisition and a full rebuild, such as Portadown to Derry. Roger will cover: 1. Limerick – Foynes, 2. Lisburn – Antrim, 3. Waterford - Wexford and Rosslare, 4. Athenry – Claremorris, 5. Mullingar – Athlone, 6. Belfast – Banbridge, 7. M3 Parkway – Navan, 8. Mullingar - Inny Junction – Cavan – Portadown, 9. Portadown - Londonderry, 10. Limavady – Londonderry – Letterkenny. A fitting end to the season, looking back and looking forward.
The Meeting
All talks start sharp at 7:30pm and are fully illustrated.
Apart from any domestics, each meeting includes a short 'Newsreel'. This gives a bite-sized look at recent events or intriguing engineering in which the RPSI has been involved. It is the natural appetiser to getting involved yourself and becoming one of the volunteers who do so much behind the scenes. There may also be a brief update on the wider Society from our General Manager.
The Society's shop, with its extensive range of railway books and pictures, will be open before each meeting and again at the interval when refreshments will also be available in return for a small extra donation. The meetings will finish at 10pm.
The Venue
Parke Hall, Orangefield Presbyterian Church, Castlereagh Road, Belfast, BT5 6BH
The hall can be reached using Metro bus services 5A and 31, and Ulsterbus service 512 - the Montgomery Road stop coming into Belfast, and Orby Street on the way out.
The meetings are fully accessible for wheelchair users.