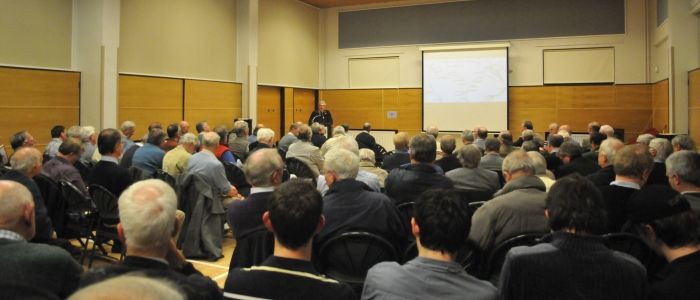 The RPSI has been running monthly meetings in Belfast, during the winter months, almost continually since February 1974.
Guest speakers from all corners of Ireland and beyond have enthralled our audiences with tales of all things railway - broad and narrow gauge - mostly steam, with many pictures from behind the scenes. Hundreds of slide shows and miles of movie film and video have revealed every corner of the island's railway network to consistently large audiences, reputedly the largest in these islands.
Because of the persistent risks in bringing 100 folk of (mostly) mature years together indoors for about 3 hours, our meetings will continue to be online-only for now. Any change will be posted here.
Next Meeting Details
| | | |
| --- | --- | --- |
| Date | | 8th December 2021 |
| Time | | 7:30pm |
| Meeting Link: | | TBC |
A valid email address will be required to access the meeting. You are advised to register as soon as the meeting link is available. Please allow about 5 minutes to complete this task.
The meetings are open to non-members and admission is free, although donations towards running costs are always gratefully received. Donors giving £5/€6 or more will have their names put into a hat for a ballot. The prize will be up to £20/€22 worth of items from the online shop. The prize winner will be contacted by email.
Date
Meeting Details
13-Oct-2021
Rails Through Sion Mills
Charles Friel takes an in-depth look at this station on a scenic section of the GNR's Derry Road between Victoria Bridge and Strabane. This is the story of the railway's impact on the village and on Herdman's mill - from the pioneering Londonderry and Enniskillen Railway and its "steam prams" through the busy times to the days of closure and beyond.
10-Nov-2021
Rails Around Ireland
Michael McMahon reveals what's in the pages of the yet-to-be-published book which he has compiled from the photographs in the Transport Treasury archive - including some pictures which did not quite make it.
08-Dec-2021
Belfast's Railways In The Blitz
Ian Sinclair looks at the destruction caused to Belfast's railways during the Blitz of 1941, in particular the NCC at York Road, and how the railways coped in the aftermath. The talk includes many previously unpublished photographs with both before and after views of the damage and the reconstruction which followed.
12-Jan-2022
No.5 "Drumboe" Revisited
Peter Scott brings us behind the scenes to review the work done at Whitehead to restore County Donegal class 5 2-6-4T No.5 Drumboe to running order when almost every component, apart from the boiler, was overhauled or replaced.
09-Feb-2022
Subject to be finalised
09-Mar-2022
Subject to be finalised
The Meeting
Log-on happens from about 7:15pm. All talks start sharp at 7:30pm and are fully illustrated.
Apart from any domestics, each meeting includes a short 'Newsreel'. This gives a bite-sized look at some recent event or intriguing piece of engineering in which the RPSI has been involved. It is the natural appetiser to getting involved yourself and becoming one of the volunteers who do so much behind the scenes. There may also be a brief update on the wider Society from our General Manager and details too of what's new in our online RPSI Shop. But maybe not always in that order!
After short interval (for your own comfort and refreshment), we aim to finish around 10:00pm.