The Irish Railway System
Ireland now has some 2,300km of public railways, all 1,600mm (5'3") gauge (the distance between the rails). Irish Rail (Iarnród Éireann), the state railway system in the Republic has 1,944km, and in Northern Ireland, Northern Ireland Railways operates another 357km. Most of the system carries passengers predominantly, and freight traffic is light by international standards. Some lines, particularly on the NIR system, carry no freight at all.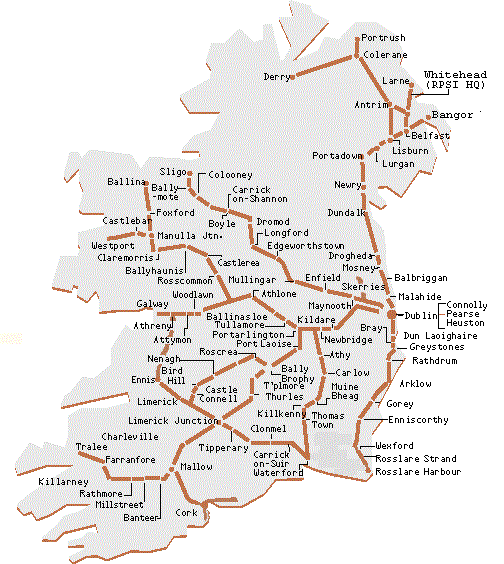 Irish Railway System Map (2015)
Irish railways were built between 1834, when the Dublin to Dun Laoghaire line opened, and the early years of the 20th century. In 1920, both the route length (3,442 miles, 5,540km [Railway Magazine, May 1958]) and the traffic levels carried were at their peak, but competition from road traffic began to make inroads into railway traffic from the 1920s. While most of the system was 1,600mm gauge, some lines mostly in rural areas were narrow gauge - 914mm gauge. In the north west, County Donegal was almost entirely served by two large narrow gauge systems totalling some 300km. In 1923, the Keady - Castleblayney line in Co. Armagh was closed after only 10 years open to traffic, and by the early 1930s a number of rural lines had followed into oblivion, mostly in the south and west.
The main lines between Dublin and Cork, Belfast, and Belfast - Derry received a fair amount of investment over the years, and locomotives, carriages and services were as good as anywhere in Europe, but rural and western lines received little new investment especially during the lean years of the 1920s - 1930s. In 1925, all the railway companies whose lines fell wholly on the Southern side of the newly created border (between Northern Ireland and the Republic) were amalgamated as the Great Southern Railways. By the late 1940s, Ireland still had an extensive railway system which was almost entirely steam operated, and indeed, one short branch line in Co. Tyrone was to remain horse-worked until its closure in 1957!
Between 1949 and 1960, huge changes took place. Large investment was made in diesel locomotives and railcars and new carriages in the Republic, with Inchicore (the main CIÉ works) working at full capacity for many years. Following nationalisation of CIÉ (the State transport company in the Republic) in 1950, many unremunerative lines were closed, and others reduced to freight only status. Meanwhile, in the North, the Ulster Transport Authority (state owned railway and general public transport in Northern Ireland 1949-67) closed almost 80% of the railway system under its control, and introduced diesel railcars to the rest.
Both economic circumstances and political interference had resulted in the closure of most of the Great Northern Railway system in 1957. The remainder was divided between the two state companies. CIÉ took over the remaining lines in the Republic, and the UTA took over what was left in the North - only to close over half of it by 1965.
By 1960, main line trains were almost entirely dieselised, leaving steam on secondary duties and freight traffic. At the end of 1962, following the delivery of more diesel locomotives and with further branch line closures imminent, CIÉ eliminated steam traction for good. In the North, dieselisation had followed a different pattern. No main line diesel locomotives had been acquired at all, and practically all passenger trains were railcar formations. Freight traffic had been abolished by the UTA in 1965, apart from cross-border traffic to and from Belfast and Derry, and yet further closures of lines had taken place. In 1967, the UTA was split up into road and rail undertakings. The railways became the Northern Ireland Railways system. Steam lingered on in the form of a remaining few ex-NCC "WT" class 2-6-4T locomotives until 1970, when the last two were withdrawn. The last public main line passenger steam train, both in Ireland and Britain, had operated on Easter Monday, 1970. After that, NIR began a gradual program of renewal. Currently, most NIR services are still railcar operated (by newer railcars!). Most services in the Republic were locomotive-hauled (up to the 2000s) but are now too virtually all railcars.
CIÉ have published a short history of their own.
NOTABLE DATES IN IRISH RAILWAY HISTORY
1834
Ireland's first railway opened, from Dublin - Kingstown (Dun Laoghaire).
1876
Grouping of Irish North Western Railway, Ulster Railway and Dublin & Drogheda Railway to form the Great Northern Railway (Ireland).
1901
Purchase of Waterford, Limerick & Western Railway by Great Southern & Western Railway.
1903
Purchase of Belfast & Northern Counties Railway by (English) Midland Railway to form Midland Railway (Northern Counties Committee) - known as "the NCC".
1906
Formation of County Donegal Railways Joint Committee by the GNR(I) and MR NCC.
1907
Whitehead Excursion Station opens!
1916
Irish Railways adopt GMT and abandon Irish time.
1921
Midland Railway (NCC) becomes LMS (NCC) with the merger of the Midland Railway into the London, Midland & Scottish Railway in Great Britain.
Irish border created after political events led to the creation of Northern Ireland and the Irish Free State (Republic of Ireland after 1937).
1923
First closure: the Keady - Castleblayney line on the GNR system.
1924
Closure of the unique steam-operated monorail line, the Listowel & Ballybunion Railway in Co. Kerry.
1925
All railway companies wholly within the Irish Free State grouped into Great Southern Railways. Cross border lines, and line wholly within Northern Ireland unaffected.
1934
Bleach Green Viaduct opens - Derry/Portrush trains no longer reverse at Greenisland.
1935
Northern Ireland Road Transport Board formed. Takes over LMS and GNR bus services within Northern Ireland.
1945
Amalgamation of Great Southern Railways with road transport concerns and Dublin tram companies to form Córas Iompair Éireann (CIÉ) = the Irish Transport Company.
1948
Takeover of LMS NCC by British Transport Commission through Railway Executive (NCC) on 1st January. BTC also inherited the penniless Dundalk, Newry & Greenore Railway which it closed in 1951.
On 2nd September, the NCC railway system and Northern Ireland Road Transport Board (buses) amalgamated to form Ulster Transport Authority, Ireland's first all embracing nationalised transport undertaking.
On 1st October, the UTA takes over Belfast & County Down Railway, only to close almost all of it 18 months later!
1950
Nationalisation of CIÉ in the Republic.
Introduction of main line diesel railcar trains by both CIÉ and the Great Northern Railway.
1953
GNR taken over by Governments of Northern Ireland and Republic of Ireland. Both Governments appoint the members of the Board, the GNR (Board) taking over from GNR (Ireland).
1955
Large scale diesel purchases by CIÉ (the "A", "B101" and "C" classes) result in virtual elimination of steam on scheduled main line passenger services in the Republic.
1957
Closure of major part of GNR system, mostly in the North, including Ireland's last horse-worked passenger railway, the Fintona branch; and the last fully independent company, the cross-border Sligo, Leitrim & Northern Counties Railway.
1958
Takeover of remainder of the GNR lines by CIÉ (in the Republic) and the UTA (in Northern Ireland).
1959
Closure of the surviving sections of the County Donegal Railways, once Ireland's largest narrow gauge system.
1961
Closure of the last public narrow gauge railway, the West Clare Railway, by now part of the CIÉ system.
1963
End of regular steam traction on CIÉ system.
1964
Formation of the Railway Preservation Society of Ireland.
1965
Closure of Portadown-Derry and Goraghwood-Warrenpoint, leaving the north-west of Ireland without railways.
1966
UTA split into three different State-owned companies: Ulsterbus (buses), Northern Ireland Carriers (road haulage - later privatised), and Ulster Transport Railways.
Last 'official' steam train from Belfast to Dublin on 29th October.
1967
UT Railways becomes Northern Ireland Railways Co. Ltd.
1970
End of steam on NIR, and therefore in Ireland.
NIR buys 3 mainline diesels for Belfast - Dublin expresses, Northern Ireland's first mainline diesel locomotives.
1972
First year of the longest-running preserved main line steam train operation in Europe - the RPSI's "Portrush Flyer", Belfast - Portrush and back.
1976
Re-opening of the Belfast Central Railway between the old GNR and B&CDR systems. Includes the new Belfast Central Station.
1984
Electrification of Howth - Dublin - Bray suburban line of CIÉ, as "Dublin Area Rapid Transit" (DART). Immediate dramatic rise in passenger usage reverses many decades of decline in Dublin's suburban train service.
1987
Division of CIÉ into three operating subsidiaries: Bus Éireann (Irish Bus), Bus Atha Cliath (Dublin Bus), and Iarnród Éireann (Irish Rail). Road haulage under IR's management.
1994
The Cross-Harbour railway in Belfast opens, thus linking the old NCC direct to the rest of the NI system. The first public trains run on 26th November.
1996
Amalgamation of the Boards of Directors of NIR and Ulsterbus/Citybus, under a new company name, Translink.
2002
The last train operates from Kingscourt and the line from Navan is disconnected.
2010
The Ennis to Athenry line is reopened to passenger traffic, giving the first service between Limerick and Galway since 1963.
The line from Clonsilla to Navan (closed 1963) reopens as far as a new station at M3 Parkway (beyond Dunboyne).
The line between Waterford (Belview) and Rosslare Strand is closed to all traffic.
2018
50 years of NI Railways is celebrated in April with a steam train (No.131) from Great Victoria Street to Whitehead.