The RPSI In Whitehead
Whitehead "…owes its existence mainly to the enterprise of the Belfast and Northern Counties Railway Company, who have not only built a new promenade and made the beautiful caves and cliffs surrounding Blackhead accessible to the tourist, but by the granting of free villa tickets, have induced many to build seaside residences." - Belfast & Ulster Directory, 1900.
115 years later and the Railway Preservation Society of Ireland has developed a major museum and steam heritage site.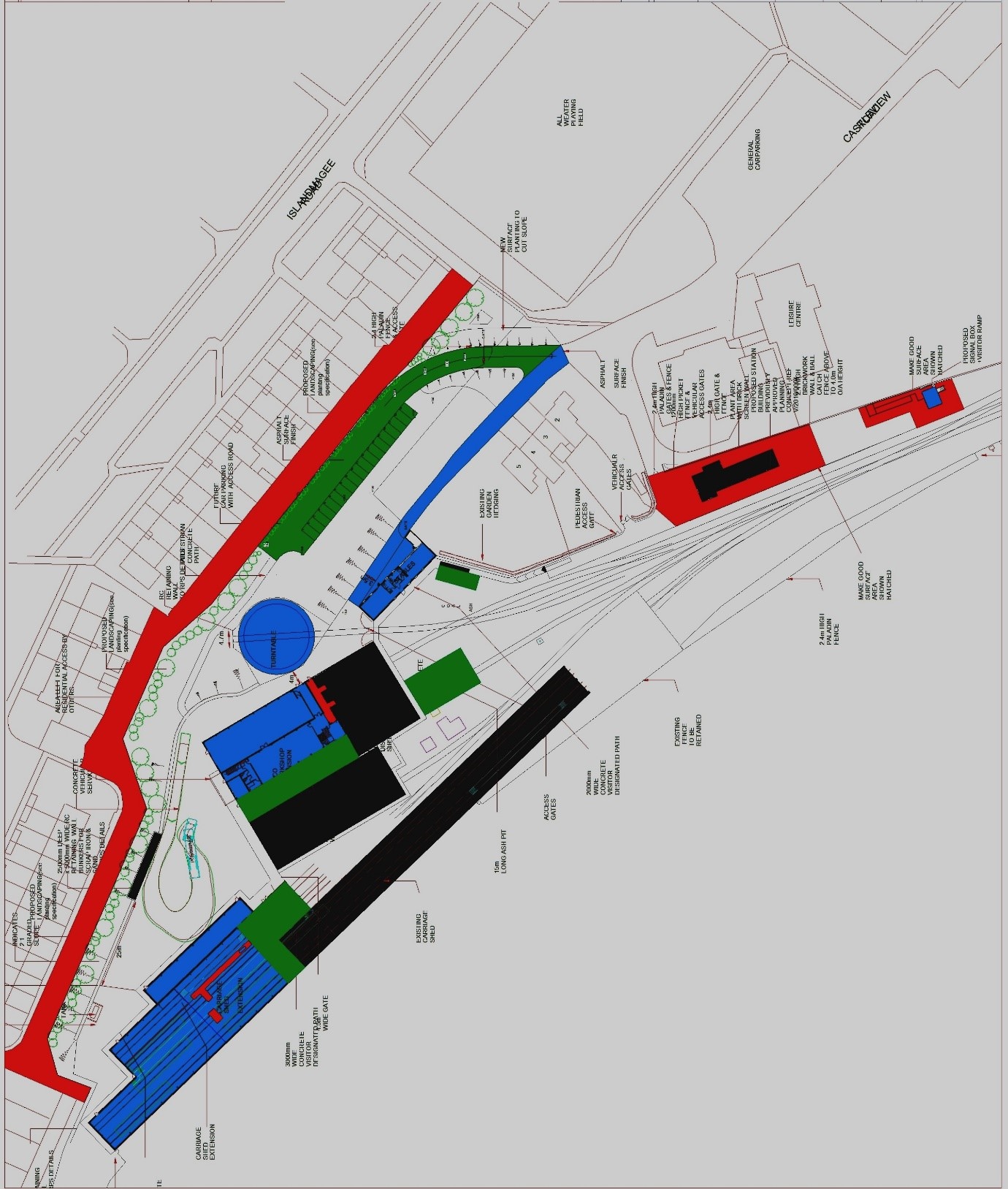 (Click to expand)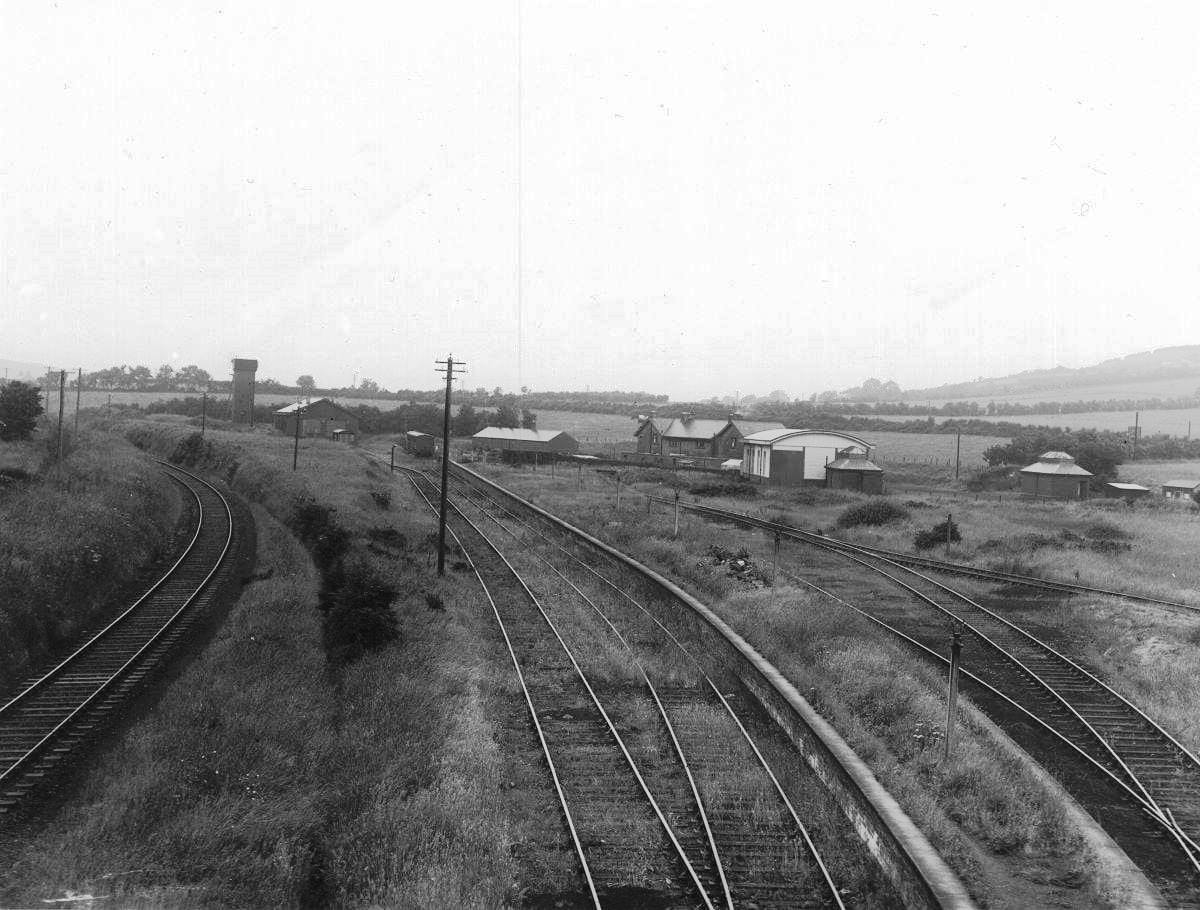 Whitehead in pre-RPSI days. (Click to expand)
1850s
About 40 families lived in and around Whitehead, employed mainly in local quarries and the harbour.
1862
The Carrickfergus and Larne Railway was opened in October with stations at Carrickfergus, Kilroot, Ballycarry, Ballylig (later Maghermorne) and Larne.
There was no station at Whitehead although later a halt platform with an old railway carriage was placed at the Kilroot side of the tunnel in connection with the quarry and brickworks situated there. Four light railway tracks ran from the limestone quarry converging into two tracks running to the White Harbour. The arches carrying the Carrickfergus and Larne Railway over the four tracks are still to be seen on the Whitehead side of the tunnel.
When first opened, there were four trains each way on weekdays and two each way on Sundays. The four trains were one passenger, two goods and passenger and one boat express. All rolling stock was provided by the Belfast and Northern Counties Railway.
1877
On 1st June a new station was opened at the present site with a level crossing joining Victoria Avenue with Chester Avenue.
1892
Berkley Deane Wise engineers the Blackhead Path that stretched 1¼ miles to the Blackhead promontory.
1894
Second Whitehead platform added.
1900
Whitehead population 600, BNCR's Villa Ticket scheme encouraging people to build houses in Whitehead in exchange for free travel.
1901
Construction begins on the Gobbins Path.
1902
The level crossing was closed in the summer when the Company built Kings Road and bridge to take its place. The main line was lowered between the station and Slaughterford Bridge to help the clearance of the new bridge.
First section of Gobbins Path opens.
1903
Midland Railway (England) buys B&NCR.
In July, extensive improvements commenced which included the erection of the present engine shed, water tank, windmill and goods store; also the four railway cottages for the locomotive staff.
1906
Extension to the Gobbins Path opens.
1907
The new Excursion Platforms were opened on 10th July and Ladies' and Gentlemen's lavatories provided at the entrance to these platforms where a new roadway was built to join Chester Avenue. Trains could use either side of the platform. There was a turntable, roughly the centre circle of the present day soccer pitch. A new signal cabin called Whitehead North was erected at the station side of Kings Road bridge to control the passage of trains to these new platforms.
The Stables housed 5 horses and 3 jaunting cars (light, two-wheeled carriages) were made available to carry visitors to and from the seafront and the nearby Gobbins Cliff Path.
At peak periods during public holidays, it was quite common to see both excursion platforms and the down platform at the station unloading trains of excursionists and following trains at Briggs Loop and Kilroot awaiting clearance to Whitehead. As soon as the trains were unloaded, they were worked back to Belfast empty to make more trips.
1908
Final section of Gobbins Path opens.
1914
Great War begins.
Excursion traffic was curtailed by the 1914-18 War and afterwards decreased so that the excursion platforms were not required. The North Cabin was demolished and the lines were only used for storage purposes and goods train when too long to use the station loop. The engine shed was closed and not reopened until the 1939-45 War when engines were stationed there. At some times, surplus locomotives awaiting repairs were stored there. For many years, Nos 22 and 50 were stationed at Whitehead and later various 4-4-0 types were to be seen.
1920s
Goods Shed become a Pavilion for concerts, dances and sporting activities.
1930s
Railway hands over the Promenade and Blackhead Path to Whitehead Urban District Council.
1940s
World War 2; ambulance train based along the excursion platform; Royal Engineers 8th Railway Construction Co. based at Whitehead equipped with armoured railway vehicles.
1961
Gobbins Path closes.
1966
RPSI takes over the Whitehead Excursion site as their new headquarters, thanks to Whitehead Urban District Council.
1969
First Open Day is held at Whitehead, with 3 locomotives in steam.
1971
Work starts on locomotive shed extension at Whitehead.
1972
Former Goods Shed (Pavilion) burns down.
1974
First Schools Day is held at Whitehead.
1976
Enterprise Ulster commences a huge work programme at Whitehead, including excavations to create new siding space and rebuilding the platform.
Wheeldrop installed.
1979
Whitehead shed extension gets a roof at long last.
1982
Locomotive wheel lathe from Belfast York Road is installed.
1993
2nd July: Carriage shed opened.
Heavy lift gantries erected.
1997
Henry Dunleath Workshop 'completed'.
1998
Iron foundry is established.
2006
4th July: The long-awaited official opening of the Henry Dunleath Workshop.
2007
30th January: Whitehead premises is officially purchased from Carrickfergus Borough Council.
2012
In August work starts on new Whitehead station building.
2013
Locomotive inspection pit installed.
Station building completed.
2014
Work commences on the second phase of development at Whitehead.
2015
Carriage Shed extension opens.
2016
Turntable construction completed.
2017
Carriage Workshop opens.
Signal Box is completed.
1st March: Whitehead Railway Museum opens to the public.